ITI Curriculum Hong Kong - Certificate in Implant Dentistry, Foundation and Intermediate Levels
28 Nov 2022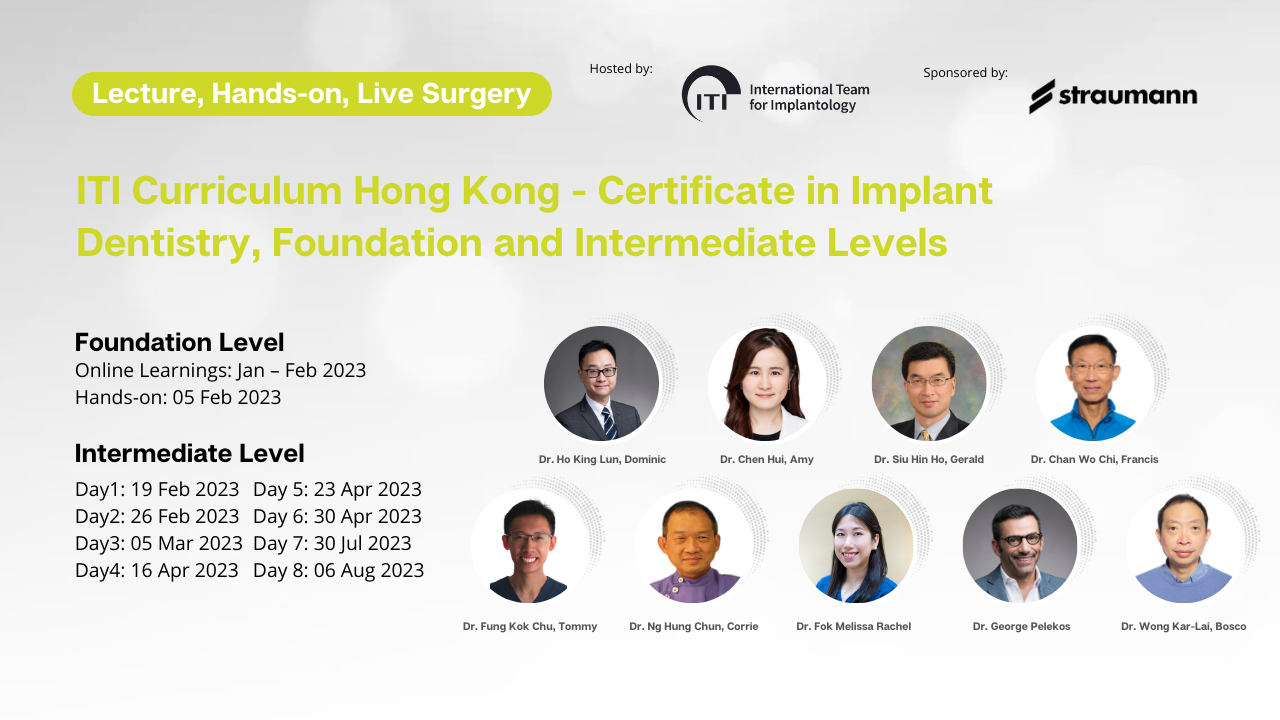 Dates
Foundation Level
Online Learnings: Jan – Feb 2023
Hands-on: 05 Feb 2023
Intermediate Level
Day 1: 19 Feb 2023
Day 2: 26 Feb 2023
Day 3: 05 Mar 2023
Day 4: 16 Apr 2023
Day 5: 23 Apr 2023
Day 6: 30 Apr 2023
Day 7: 30 Jul 2023
Day 8: 06 Aug 2023
What is the ITI Curriculum?
The ITI Curriculum is a universally standardized education curriculum aimed at dentists who are relatively new to implant dentistry and are interested in incorporating implant dentistry into their practices. Dentists who enroll in the ITI curriculum can be assured of receiving a comprehensive and high standard of dental implant education based on the ITI philosophy and principles for the provision of implant therapy. 
The ITI Curriculum is designed to be delivered in a blended learning educational format with e-learning, onsite courses, hands-on training, case-based collaborative learning and direct patient treatment under supervision. The ITI Curriculum addresses two levels: Foundation and Intermediate. Structured progress of learning provides a broad theoretical basis in implant dentistry and then successfully builds on this knowledge to introduce clinical implementation and first-hand experience of treating patients. The course concludes with an assessment and certification process, where upon completion and successfully passing the final exam, the participant will be awarded an ITI Certificate in Foundational and/or Intermediate Level Implant Dentistry. 
Foundation Level
Learning outcomes:
The knowledge and clinical skills required to assess, treatment plan and restore straightforward implant cases as well as provide day-to-day implant monitoring and maintenance.
Core theoretical knowledge across implant dentistry
Ability to assess prospective patients and identify straightforward cases according to the SAC classification
Ability to restore straightforward, single-tooth spaces
Knowledge of peri-implant tissue health and implant prosthesis maintenance
Ability to manage simple complications


✔ 35 Online Learning Modules in 6 Domains
Domain 1: Introduction to Implant Dentistry
Domain 2: Practicing Implant Dentistry & Self-Directed Learning
Domain 3: Structured Assessment & Treatment Planning
Domain 4: Prosthodontic Planning & Procedures
Domain 5: Surgical Planning & Procedures
Domain 6: Treatment Outcomes & Continuing Care
✔ Hands-on Program
✔ Examination and certification
Intermediate Level
Learning Objectives: 
Acquire the theoretical knowledge of the treatment plan, and restore straightforward cases.
Be able to provide Implant treatment support—monitoring & maintenance of tissue health and the prostheses.
Identify the role of digital tools in surgical and restorative workflows.
Recognize treatment outcomes, including surgical and prosthetic complications.
Topics:
Introduction to Implant Dentistry and the ITI concept and philosophy
Treatment objectives, anatomy with relevance to implant surgery and risk assessment 
Treatment planning and stages of implant therapy, implant placement and loading protocol
Flap design, surgical assessment of implant sites & implant osteotomies for posterior single, straightforward cases
Simulation exercise in surgery:
- single posterior implant placement (freehand)
- implant placement at the anatomically compromised site and correction of implant osteotomy with wrong position and inclination
- flap design, guided bone graft and suturing 
Prosthetic treatment planning, including 
- abutment configuration, abutment interface, and material choice
- prosthesis design and material choice
- occlusion
- digital planning 
Cement-retained vs screw-retained restoration  
Simulation exercise in implant prosthodontics:
- open tray & close tray impression
- digital impression / intraoral scanning
- delivery of a CAD/CAM  temporary crown
Maintenance of patients with implants and biological complications 
Mechanical complications 
Case treatment planning presentation  & discussion, each student presents 2 cases. 
Live surgery performs by each participant and supervises by the mentors
Treatment planning in anterior implant placement
Digital workflows and guided implant surgeries in the aesthetic zone
Peri-implantitis and the importance of addressing potential risk factors.
Management of extraction and post-extraction sockets
Implant placement at the compromised site and bone grafting procedures in daily general dental practice
Successful completion of the course and ITI Certificate will require:
- Attendance of all theoretical and hands-on modules of the course as per the course program
- Completion and documentation of 4 patient treatments including placement and restoration of the implant.
- Oral viva assessment by a panel in one documented patient case
- Completion of the ITI Online examination.
- By the end of the Intermediate Course, each student needs to submit four completed cases in the format of patient portfolio and thereafter attend the viva. Each student will need to present one complete case at the viva and discuss the relevant questions of the examiners. However, the examiners might ask questions on all the submitted cases. Finally, the student will have to successfully complete the online examination conducted by the ITI.
Speakers
Dr. Ho King Lun, Dominic (Course Director)
BDS (HK), MDS (Perio) (HK), AdvDipPeriodont (HK), MRD RCSEd (Perio), FHKAM (Dental Surgery), FCDSHK (Periodontology), FDS RCSEd, FDS RCPS (Glasg) 
Dr. Dominic Ho is working as a private practicing Specialist in Periodontology with focus practice on the management of periodontally compromised patients, oral rehabilitation of periodontally compromised patients with dental implants and management of peri-implant complications.
Dominic was a Clinical Assistant Professor in the Faculty of Dentistry, HKU as the co-director in the post-graduate program in Periodontology, interim program director in Implant Dentistry and Deputy Director in the Clinical Research Centre in 2022. He is now delivering undergraduate and postgraduate education on Periodontology and Implant Dentistry and conducting clinical trials on minimally invasive periodontal therapy and immediate placement of the dental implants.
Dr. Chen Hui, Amy (Course Director)
BDS (SJTU), MDS (SJTU), DClinDent(Pros)(Syd), PhD(Syd), MRACDS(PRos)


Dr. Amy Chen is a full-time Clinical Assistant Professor in Prosthodontics at Faculty of Dentistry, HKU. She is actively involved in undergraduate and postgraduate clinical and research education, and also works as the co-coordinator in Undergraduate Implant Course. 
Dr. Chen obtained her Bachelor and Master education in dentistry from Shanghai Jiao Tong University from 2006-2013. Upon graduation, she received Australian Postgraduate Award/International Postgraduate Research Scholarship and completed her PhD at the University of Sydney. From 2017-2020, she continued her specialist training in prosthodontics at the University of Sydney.  Her clinical and research interests include full-mouth rehabilitation with dental implants, and the correlation between oral rehabilitation and cognition in aged population. 

Dr. Siu Hin Ho, Gerald (Mentor & Tutor)
BDS(HK), PDipDS(HK), MFGDP(UK), MGDSRCS(Edin), MFDSRCS(Edin), FRACDS, MGD(CDSHK), MFDSRCPS(Glasg), FFGDP(UK)(Ad Eundern)

Dr. Gerald Siu graduated from the University of Hong Kong in 1988. After graduation, he furthered his dental knowledge and skills in dental implantology as a postgraduate student at HKU in 1993. He was greatly impressed by the huge amount of research into the Straumann Dental Implant System. Having completed his postgraduate training, Gerald attended further implant dentistry courses at the Universities of Geneva and Bern. 
Gerald is one of the pioneers in Hong Kong of the Straumann Dental Implant System.  In 2001, he was honored to be one of the local ITI speakers in Hong Kong and was frequently consulted by many dental practitioners in the field of dental implants. Gerald lectured and delivered hands-on workshops, which attracted high attendances, in a practical way, taking a step-by-step approach that GDPs can apply easily in their own practices.

In 2007, Dr Siu completed his Associate Fellow in the American Academy of Implant Dentistry and became ITI Fellow in 2009.  

In 2005 and 2006, he published several research papers on dental implants in general practice. Subsequently, he conducted study groups with his colleagues to assist in solving problems in the area of implant dentistry and help them establish their implant practices.
Dr. Chan Wo Chi, Francis (Mentor)
BDS(HK), PDipDS(HK), DGDP(UK), MGDSRCS(Edin), MGD(CDSHK), MSc(Implant Dent)(HK) 

Francis graduated from the University of Hong Kong with a BDS in 1988. He received postgraduate training in Periodontology and obtained his PDipDS in the University of Hong Kong in 1995, when he was also awarded the DGDP(UK) by examination. In 1997, he was awarded the MGDS(Edin). He obtained a MGD(CDSHK) in 2008 and a MSc(Implant Dent) in 2009, respectively.  
Francis is a general practitioner with a keen interest in oral implantology. In 2003, he was admitted as Fellow of the International Team for Oral Implantologist (ITI). Since 1997, Francis has been engaging in lecturing and educational activities in the field of Implant Dentistry, giving speeches and appearing at various implant-relating conferences and symposiums in Hong Kong and abroad.  

Francis has served as a part-time lecturer in Periodontology, Conservative Dentistry and in Implant Dentistry at the Centre of Advanced Reconstruction in the Dental Faculty, HKU.

Dr. Fung Kok Chu, Tommy (Mentor)
BDS (HK), MGD (CDSHK), MRACDS (GDP)
Dr. Tommy Fung obtained his bachelor's degree with honor in 2009 and completed his master's degree in implant dentistry in 2022. He practices in the private sector with a special interest in digital implant planning and computer-aided implant surgery.
He is currently serving as an honorary clinical tutor in Periodontology & Implant Dentistry, HKU. He is an active ITI member. He has co-moderated ITI session in HKIDEAS and published article about guided sinus surgery on the ITI Blog.
Dr. Ng Hung Chung, Corrie (Mentor)
BDS(HK), MDS(H.K.)(Periodontology), FRACDS, Adv.Dip.(H.K.)(Periodontology)
It has been over 35 years since Dr. Ng's graduation. Dr. Ng finds that true knowledge never ends and new innovations are merging from time to time. 
Dr. Ng enjoys attending courses, conferences, symposiums and even long courses like my MDS; all these enriched his knowledge and give Dr. Ng insights so that he would be able to deliver better services to the patients. 

Implants dentistry is no exception which covers a wide field of multi-disciplines. With the advancement of the digital world, the outcome is more predictable and precise. So keep learning new and be in the stream of dentistry. 
Dr. Fok Melissa Rachel (Tutor)
BSc, BDS, MDS (Perio), M Perio (RCSEd)
Dr. Melissa Rachel, FOK is a Clinical Assistant Professor in the Division of Periodontology and Implant Dentistry in the Faculty of Dentistry, HKU. She obtained BDS and MDS in Periodontology with honors from HKU in 2014 and 2018, respectively. 
In 2019, she attained memberships in Periodontics from the Royal College of Surgeons of Edinburgh and the College of Dental Surgeons of Hong Kong. 
She was awarded the Hui Pun Hing Memorial Postgraduate Fellowship and is currently pursuing a doctoral degree in HKU. She partakes in the postgraduate education program in Implant Dentistry in HKU and contributes to the clinical teaching of the European Federation of Periodontology's accredited postgraduate education program in Periodontology, HKU. 
She is a fledging researcher with a special interest in periodontal and implant research. She has published in peer-reviewed leading periodontal journals (such as the Journal of Clinical Periodontology, Journal of Periodontology etc.) and is currently steering a multi-national clinical trial in dental implants.
MUDr. George Pelekos  (Tutor)
MSc, MClinDent, PhD, MFDSRCS

MUDr. George Pelekos after the completion of his studies in the Medical faculty of Masaryk University in Czech Republic he was awarded the degree of Doctor of Medicine with an MSc in the area of oral pathology. In 2006 (MClinDent) he began his training in a full-time program and completed his specialization degree in Periodontology (2009) at the prestigious Eastman Dental Institute in London (UCL).  He was accredited as a certified Periodontist a few months later by the European Federation of Periodontology (EFP).  The year after he was registered as a Specialist in Periodontology with the General Dental Council in the UK. 

George has been lecturing worldwide and is a member of several scientific organizations (ITI, IADR). He is also holding a membership with the Royal College of Surgeons (Glg) and he serves as a trainer for the College of Dental Surgeons in Hong Kong.
In 2014, he was appointed as a Clinical Assistant Professor in Periodontology at the Dental Faculty of Hong Kong University and he completed his PhD degree in Tohoku University from Japan. 
Areas of interest in research include clinical periodontology, peri-implantitis, wound healing, probiotics, periodontal medicine and evidence-based analysis.
Currently he is the Director at the Periodontology postgraduate program in HKU which is the only program outside Europe that is accredited by the European Federation of Periodontology (EFP).
Dr. Wong Kar-Lai, Bosco (Tutor)
DMD(CEU)Phil, MSc (DMS)(HK)

Dr. Wong runs a general dentist in private practice in Hong Kong. He started to work with the ITI implant system since 1997. Since then, he began to conduct professional seminars for ITI as a local and regional speaker. He has a special interest in restorative dentistry and in materials used in implant dentistry. 
He is an Honorary Assistant Professor in Applied Oral Sciences and Community Dental Care of the Faculty of Dentistry, HKU. He was previously the clinical lecturer in master program of Implant Dentistry, The University of Hong Kong and a Fellow of the International Team for Implantology (ITI).
Contact Peak Dental Solutions HK for details
Enquiry:
Anthony Chui     (+852) 9659 2689
Any Chau              (+852) 9617 5955
Horace Cheng    (+852) 9305 0915
Roy Leung            (+852) 9611 9137
Samantha Jim    (+852) 9887 8326