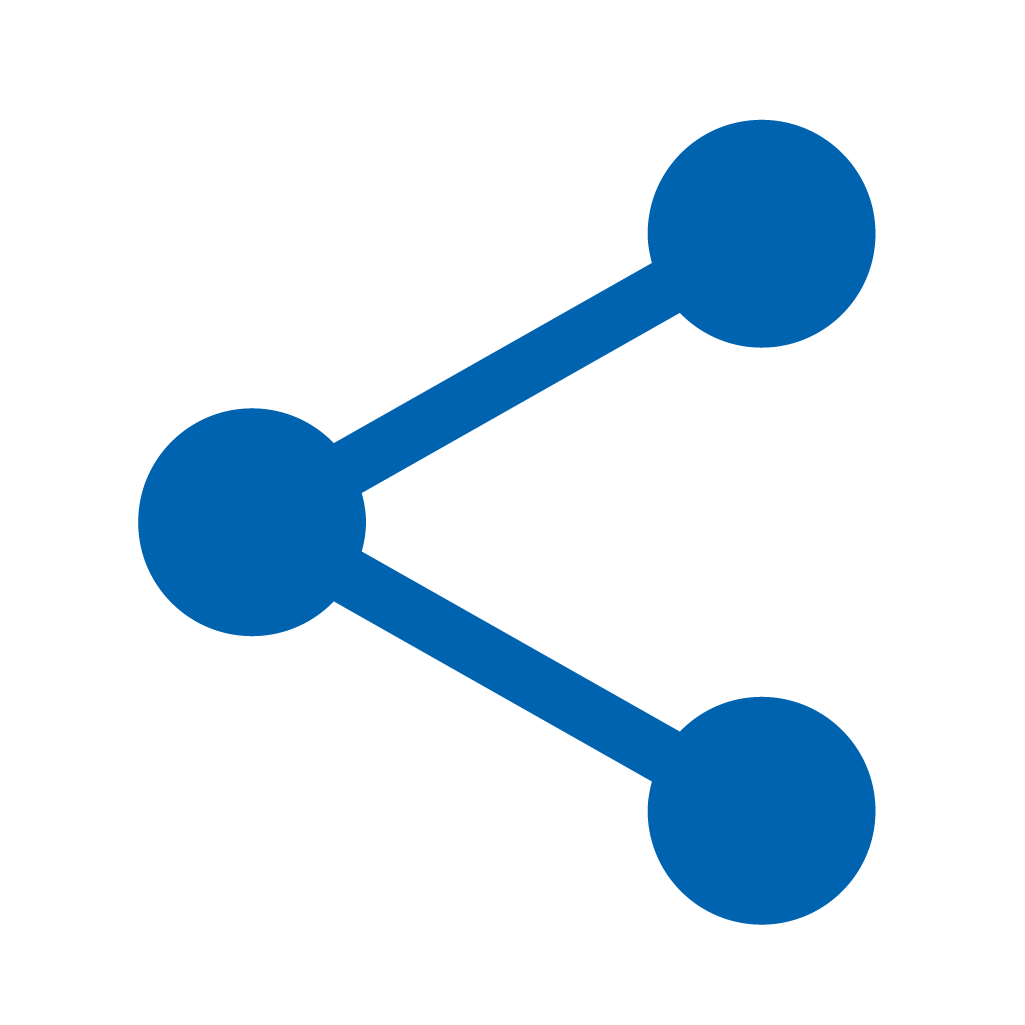 HKIDEAS 2022 Education Programme
15 Nov 2022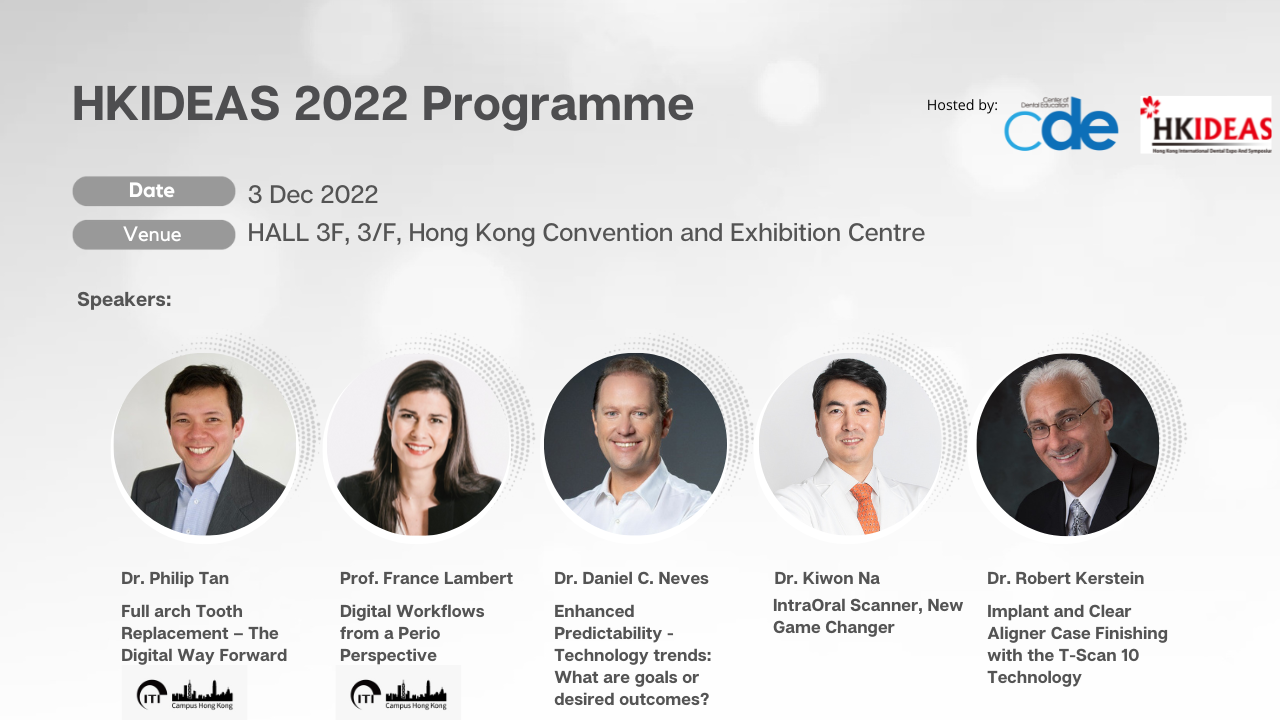 HKIDEAS 2022 Education Programme

We invite you to join us on 3 Dec 2022 at Hall 3F, 3/F, Hong Kong Convention and Exhibition Centre for the HKIDEAS education programme. 5 experts will be sharing their experiences and thoughts from different topics.
Speaker: Dr. Philip Tan (9:00 A.M.- 10:30 A.M.)
Topic: Full arch Tooth Replacement – The Digital Way Forward
- While complete edentulism rates have dropped, the sheer increase in population growth has meant that more people than ever need assistance with this crippling problem. Thankfully there has been a commensurate growth in technology and materials which provided a wide range of treatment options. This presentation will provide understanding of the options that are available for the wide array of patients that we treat. The learning objectives are to recognise patient factors that will complicate treatment, understand the variety of treatment options available to rehabilitate the edentulous jaw, and be able to discuss the appropriate application of different treatment options to specific patient situations.
Speaker: Prof. France Lambert (11:00 A.M.- 12:30 P.M.)
Topic: Digital Workflows from a Perio Perspective
- The development in digital technologies is currently offering many benefits in restorative dentistry. However, these recent advances can also profit to implant hard and soft tissues integration or for immediate loading procedures. The fabrication of custom-made final abutment and provisional crown prior to guided surgery is of great interest for one-abutment one-time procedures and to promote the peri-implant soft tissue integration. Moreover, the combination of digital impression, new restorative materials and chair-side milling system offer innovative implant protocols allowing the implant biological integration. The overall objective of this lecture is to emphasize through recent cases series the current possibilities, the potential benefits and perspectives of emerging digital technologies in implant dentistry.
Speaker: Dr. Daniel C. Neves (2:00 P.M.- 2:45 P.M.)
Topic: Enhanced Predictability - Technology trends: What are goals or desired outcomes?
- Disruptive innovations will have a huge impact on how dentistry will be practiced and how patients will take care of themselves in the future. Intraoral scanners are getting more and more advanced and planning software for clear aligner therapy are proving to match our expectations more than ever. We´re seeing a strong patient growth potential in the dental offices with many patients looking for esthetic treatment and solutions that would be more comfortable, safe and reliable. That same technology that provides the predictable outcomes also helps educate the patients, serving as a motivational tool for maximum cooperation.
Speaker: Dr. Kiwon Na (3:30 P.M.- 4:30P.M.)
Topic: IntraOral Scanner, New Game Changer
- We are experiencing the big wave of change called Digital dentistry. As the digital method is applied to the dentistry, treatment work-flow is totally different from the conventional one. Digital dentistry is possible with digital devices and software. Among them, Intraoral scanner is the key device and the first step for the digital dentistry in the clinic. Recently, so many intraoral scanners are developed and launched, and they show very impressive performances and functions. I have used ios for 4 years and my clinical work-flow has been changed to be very simple and comfortable. Especially, useful software to make clinical procedure various have been served. I'm experiencing the clinical expandability with iOS, CAD software and additional digital output devices. I'd like to introduce accuracy and clinical effectiveness of iOS and share my clinical experiences of digital dentistry.
Speaker: Dr. Robert Kerstein (4:30 P.M.- 6:00 P.M.)
Topic: Implant and Clear Aligner Case Finishing with the T-Scan 10 Technology
- Studies show that excessive occlusal forces can lead to damaged and fractured implant restorations, and cause difficult patient acceptance of a new occlusion after orthodontics. Whether designing an implant case the Digital Workflow or moving teeth with Clear Aligners, it is quite common that occlusal problems soon arise shortly after case completion. Case finishing with the T-Scan 10 technology at implant case insertion or at the end of tooth movement, helps a dentist control excessive occlusal forces and time–premature contacts that compromise patient occlusal comfort.
Please visit http://www.hkideas.org for more details