Surgical Enhancement of the Soft Tissue Profile: Tissue, Timing and Techniques
26 Jan 2022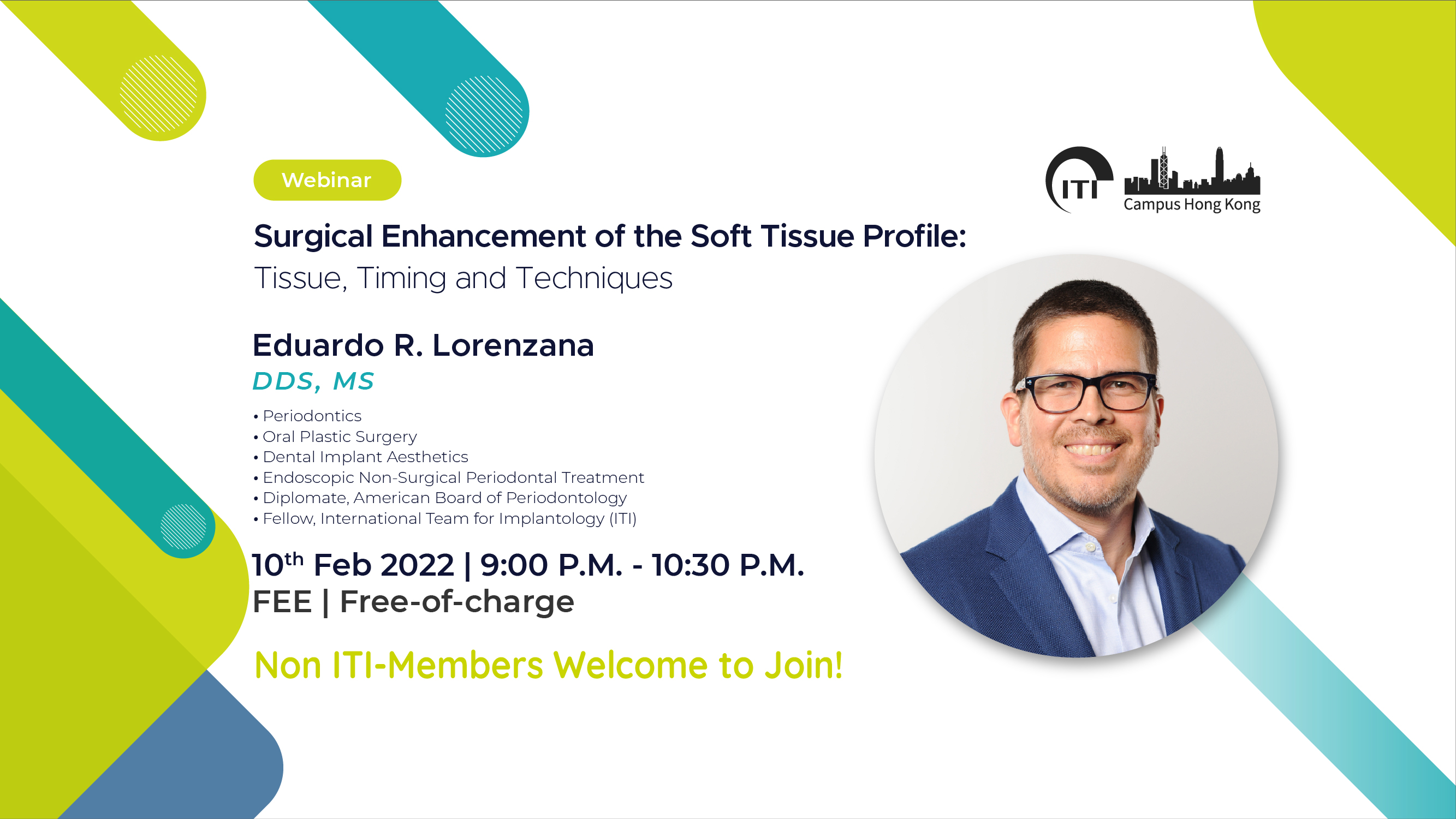 Surgical Enhancement of the Soft Tissue Profile: Tissue, Timing and Techniques
Eduardo R. Lorenzana, DDS, MS
Description
Numerous techniques and materials have been documented for the purposes of reconstructing the deficient alveolar ridge in preparation for, or in conjunction with, implant placement. What is often overlooked in the process is how the quality and quantity of the soft tissue can impact the timing of treatment as well as the application of hard and soft tissue reconstructive techniques. In the esthetic zone, the periodontal and peri-implant tissues are an intimate component of any implant-based reconstruction, since overall gingival display, soft tissue position and volume, and papilla quantity and quality can impact the implant fixture position as well as the overall esthetic outcome. Periodontal/oral plastic surgery has developed as a discipline within Periodontics to offer the surgical and restorative team a number of techniques to create and enhance implant soft tissue outcomes. This presentation aims to present a perio-prosthetic approach as it is applied daily in our private practice community; from risk assessment, to the selection and timing of treatment approaches, to long-term assessment of treatment outcomes.
Learning Objectives:
·       To apply and incorporate recently updated Esthetic Risk Assessment concepts into the planning process.
·       To investigate how soft tissue phenotype impacts implant treatment planning in the esthetic zone, including the timing of alveolar ridge reconstruction.
·       Confidently apply perio-prosthetic planning and oral plastic surgery techniques to enhance treatment outcomes.
About the Speaker
Eduardo R. Lorenzana, DDS, MS, established his private practice in San Antonio, Texas, focused on Periodontics, Oral Plastic Surgery, and Dental Implant Aesthetics. Dr. Lorenzana earned his certificate in Periodontics and Masters in Oral Biology from Texas A&M - Baylor College of Dentistry in Dallas, Texas, and is a Diplomate of the American Board of Periodontology. He is an Adjunct Assistant Professor in the Graduate Periodontics Department at Texas A&M - Baylor College of Dentistry and Faculty in the Implant Preceptorship in Dental Implantology continuum at The University of Texas Health Science Center in San Antonio. Dr. Lorenzana shares his work and clinical perspectives through national and international lecturing, clinical research, and publications. He is an active member of numerous professional organizations, including the American Academy of Periodontology (AAP) and the Academy of Osseointegration (AO). He is Past-President of the Southwest Society of Periodontists (2016-2017) and the Texas Society of Periodontists (2008-2010). Dr. Lorenzana is also a Fellow in the International Team for Implantology (ITI), currently serving as Study Clubs Coordinator for the US Section. 
Registration: https://zoom.us/meeting/register/tJYrdumgrj8oHtelqswOkteXPWJ8tUC7F096  (expired)