The ITI Study Clubs In Hong Kong
28 Jun 2022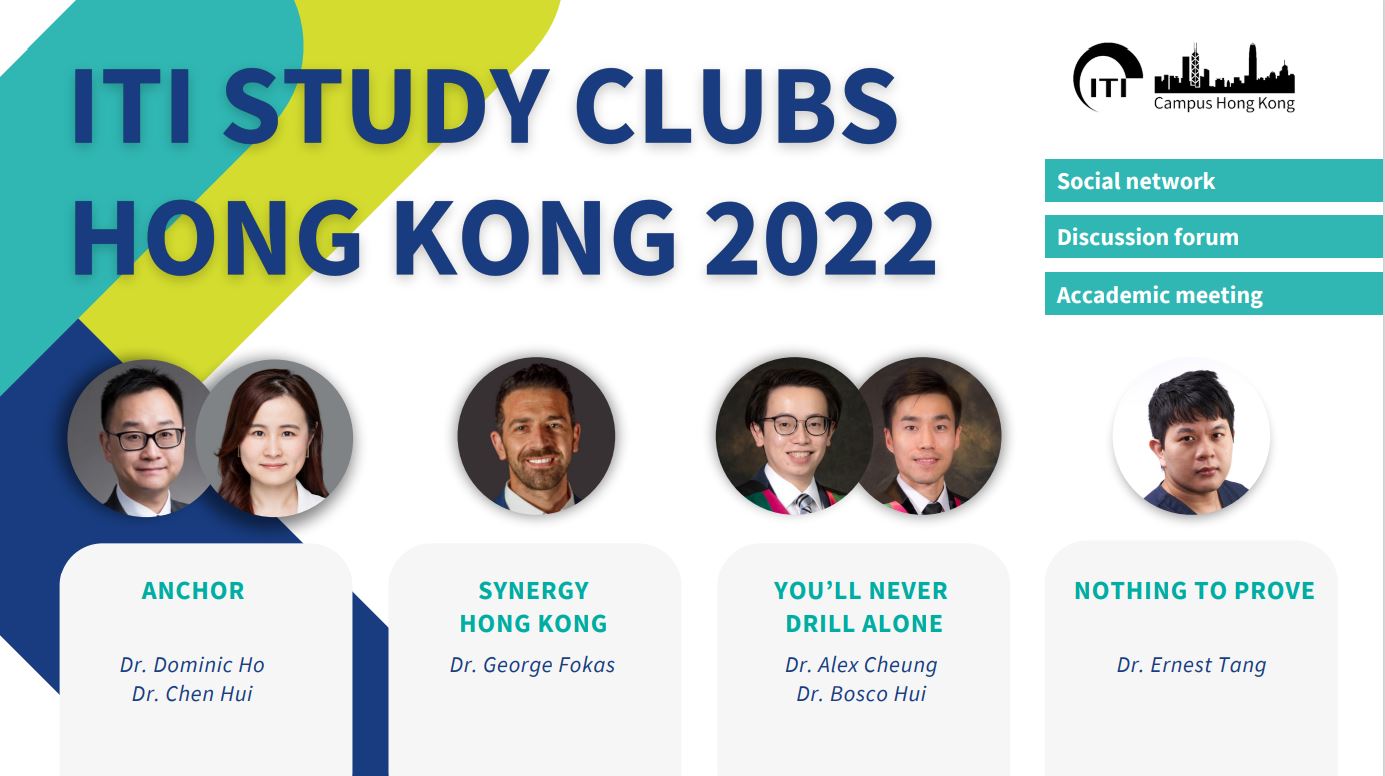 After two difficult years for all, ITI is growing explosively all over the world and Hong Kong is again at the forefront! Last April, the ITI Campus Hong Kong got together a team from all over the world to welcome more than 50 new members and update everyone on the exciting new developments! 
The study clubs have been one of the most successful and appreciated offerings of the ITI. As a "home base" for every member, they offer a friendly collegial network and a place where everyone can go to learn, share and develop but also to build lasting friendships and get support in every step of the Implant Dentistry journey. Unlike the mega study clubs that one can find on the Internet, the ITI study club is meant to be a small group where everyone has a say and every one is unique, so the typical number of members is 10-20 colleagues. And now here comes four great study clubs to choose from! 
- Synergy 
With a catchy Greek name and Dr. George Fokas at the helm, this study club is the oldest in Hong Kong and the evolution of many years of work! The study club aims to focus on interdisciplinary treatment concepts of higher complexity, utilizing local and international experts and key opinion leaders. This year it has already hosted a talk with Prof. Eduardo R. Lorenzana and Prof. Dr. Ali Murat.
- Anchor 
Anchor is a study club directed by two HKU Academics, Dr. Dominic Ho, and Dr. Amy Chen. With Dr. Ho a specialist Periodontist and Dr. Chen a Prosthodontist, this study club aims to bring a comprehensive view on implant therapy and bring up how success is achieved through the intersection between different experts.
- You'll never drill alone
With an inspiring name, this is the study club of two young specialists Dr. Alex Cheung and Dr. Bosco Hui. With Dr. Cheung, a specialist Prosthodontist, and Dr. Hui a specialist in OMFS, this study club can bring up another unique combination of skills and perspectives! The study club aims to place emphasis on the role of the multispecialty team approach in implant therapy, by means of digital treatment planning, workflow, and surgical techniques.
- Nothing to prove
With another unconventional name, this study club directed by Dr. Ernest Tang promises to demystify Implant Dentistry and cater to the needs of colleagues in the starting phases of their implant journey. Dr. Tang is a young clinician himself, a graduate of the HKU MDS in Implant Dentistry program. His vision is this of a study club where everyone comes to learn and share and support a group of friends, where learning is about substance and every question is relevant.
With four new study clubs, all sharing the ITI Philosophy but each with its unique features and focus, the choice has never been larger for colleagues in Hong Kong!

Inquiry:  iticampushk@cde.hk