Computer Guided Implant Surgery for Management of Single to Full Edentulous Rehabilitation
Start Date: 2020-11-29
Speaker:
Dr. Chow Lop Keung, Raymond BDS HK, MDS HK(Oral & Maxillofacial Surgery), MOSRCS(Edin), FDSRCS(Edin), FDSRCPS(Glasgow), FHKAM(Dental Surgery), FCDSHK(OMS)
Course Highlight: Digital workflow, varies scanning protocols and details to be considered to improve accuracy of guided implant surgery.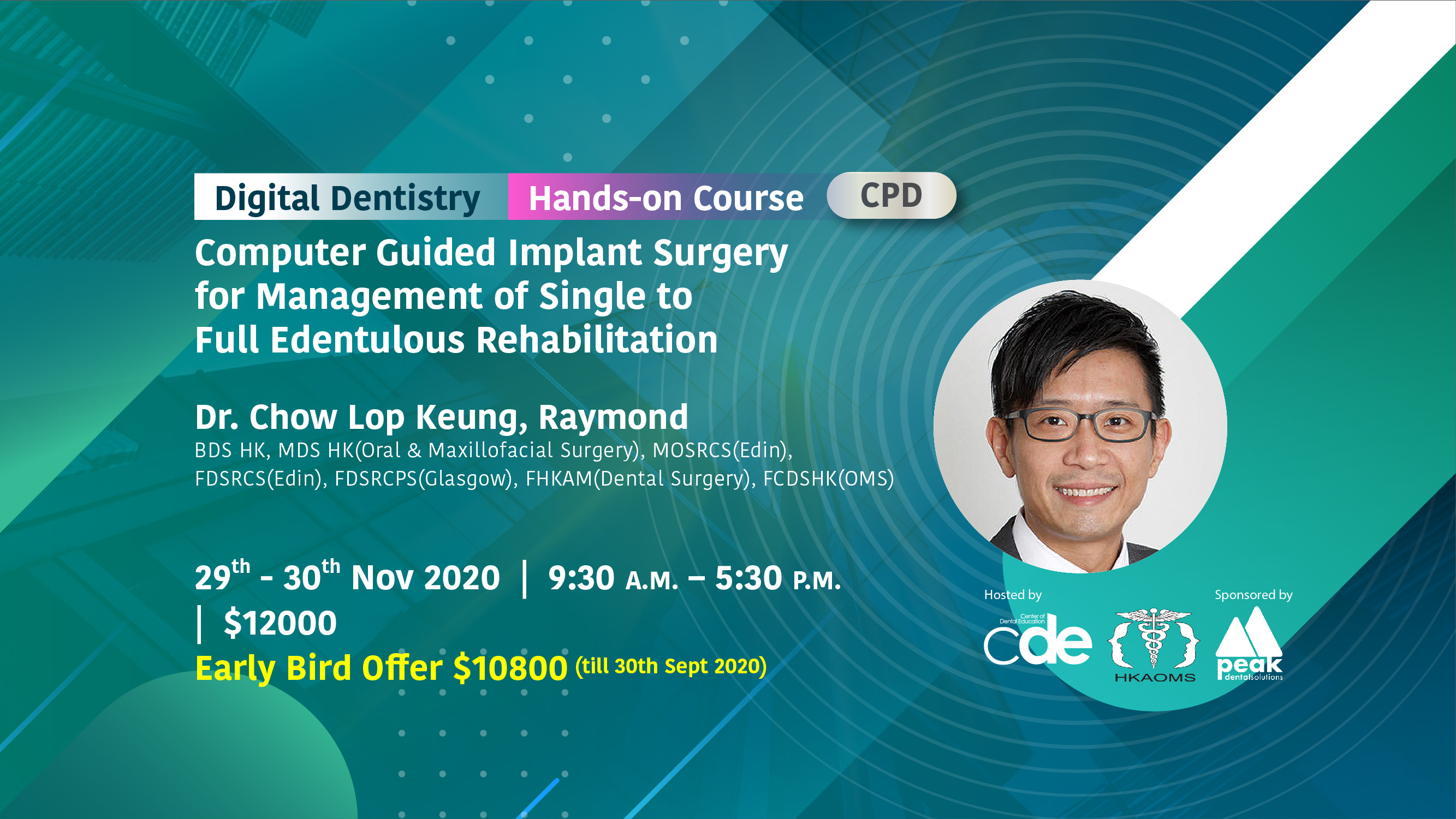 Computer guided implant surgery represents a new era in dental implant treatment. Cone beam CT data combined with the 3D planning software allows dentist to visualize the bone, teeth and vital structures such as nerves in 3D, which facilitates the placement of dental implants in more precise and prosthetic-favorable position. With guided surgical approach, the surgery time is greatly reduced and damage to the vital structures is avoided. Patients also exhibit less post-operative bleeding, pain and swelling as well as decreased healing time. By using the latest CAD/CAM technology, temporary or permanent prostheses could be made even before the surgery and delivered immediately after implant placement.   
This course will highlight the digital workflow, different scanning protocols and details to be considered to improve accuracy of guided implant surgery. Full cases presentation from single tooth replacement to edentulous arch rehabilitation will be presented.
Learning outcomes:
To know what data is required and basic principles of in computer guided implant surgery
To learn how to operate the 3D implant planning software, design of different types of surgical guides
To learn the surgical techniques for guided implant surgery
To understand the rationale and choice of planning protocols in different clinical scenarios
Day 1
09:30   Live Surgery: Single tooth implant with immediate provisional crowns
12:30   Basic principle of 3D planning software (BlueSky Bio) and surgical guide design, step by step guidance.
14:00   Hands-on: 3D Surgical planning using Bluesky Bio Plan from single tooth replace to edentulous rehabilitation.
17:30   Q&A
Day 2
09:30   Guided Implant Surgery – The Complete Digital Workflow, Choice of Planning Protocols and Clinical Application.
11:00   How to maximize success if immediate implant in esthetics zone
14:00   Hands-on: Implant Surgery at Aesthetic Zone (Free hand and Guided)
16:00   Hands-on: Immediate Provisional Fabrication for single tooth replacement
17:30   Q&A
DATE

Day 1: 29 Nov 2020
Day 2: 30 Nov 2020

TIME

GMT +8
9:30 am - 5:30 pm

PRICE

HK$10,800

-Early Bird HKD$10800 (Until 30 Sep 2020)
-Original Price HKD$12000