Start Date: 2023-11-01
Speaker:
Dr. Hui Sheung Yu, Bosco BDS(HK), MDS(OMS)(HK), MOMS RCSEd, FCDSHK(OMS), FHKAM(Dental Surgery)
(Module 1 - 4) Straumann Implants Essentials: Starting Your Journey in Implant Dentistry
Course Highlight: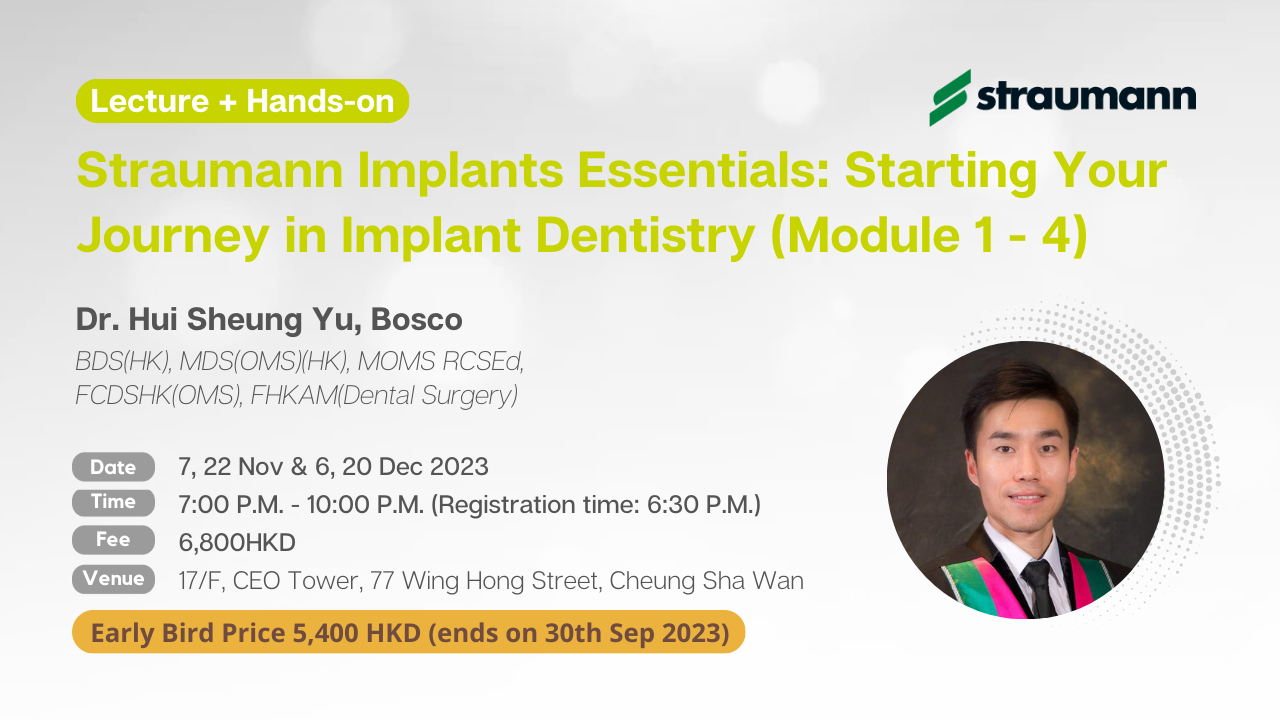 Module 1 – 7 Nov, 7:00pm-10:00pm
Treatment Planning, Basic Implant Knowledge and Case Selection
•
Biological considerations of dental implant and the rationale of different implant designs and surface.
•
Simple case patient and radiographic assessment and Implant selection
•
Tissue Level & Bone Level implant placement protocols and surgical set up.
•
Hands-on: Tissue Level Implant Drilling Protocol
Module 2 - 22 Nov, 7:00pm-10:00pm
Surgical Skills and Basic Bone Grafting Knowledge and Technique
•
Basic surgical skill, flap design, soft tissue management and suturing
•
Bone grafting materials and its surgical techniques
    -
Bone grafting for socket preservation
    -
Simultaneous Implant Placement and Augmentation
Module 3 - 6 Dec, 7:00pm - 10:00pm
Prosthetic Workflow
•
Loading protocol of dental implants
•
Impression taking and techniques.
•
Prosthetic abutment selection 
•
Hands-on: Open Tray and Close Tray Impression taking
Module 4 – 20 Dec, 7:00pm-10:00pm
Complex Case Digital Planning Workflow and Guided Surgery Techniques
•
Nowadays modern digital implant planning workflow and incorporate guided surgery into your dental implant practice. 
    - Implant Treatment Planning with Bluesky Bio.
    - Pilot Drill Guide Implant Placement
______
Dec 2023 to Feb 2024
Module 5 - Mentorship for Single Implant Placement 
*Dentists who would like to register for the Module 5 mentorship must be attended all Modules 1-4
•
Participants are required to bring one single tooth missing case for case assessment and treatment planning. 
•
Implant surgery will be performed by participants and supervised by Dr Hui in the designated clinic.
Please go to below page for Module 5 registration
DATE

2023-11-07(Tue)
2023-11-22(Wed)
2023-12-06(Wed)
2023-12-20(Wed)

TIME

GMT +8
7:00 pm - 10:00 pm

LOCATION

Center of Dental Education

PRICE

HK$6,800