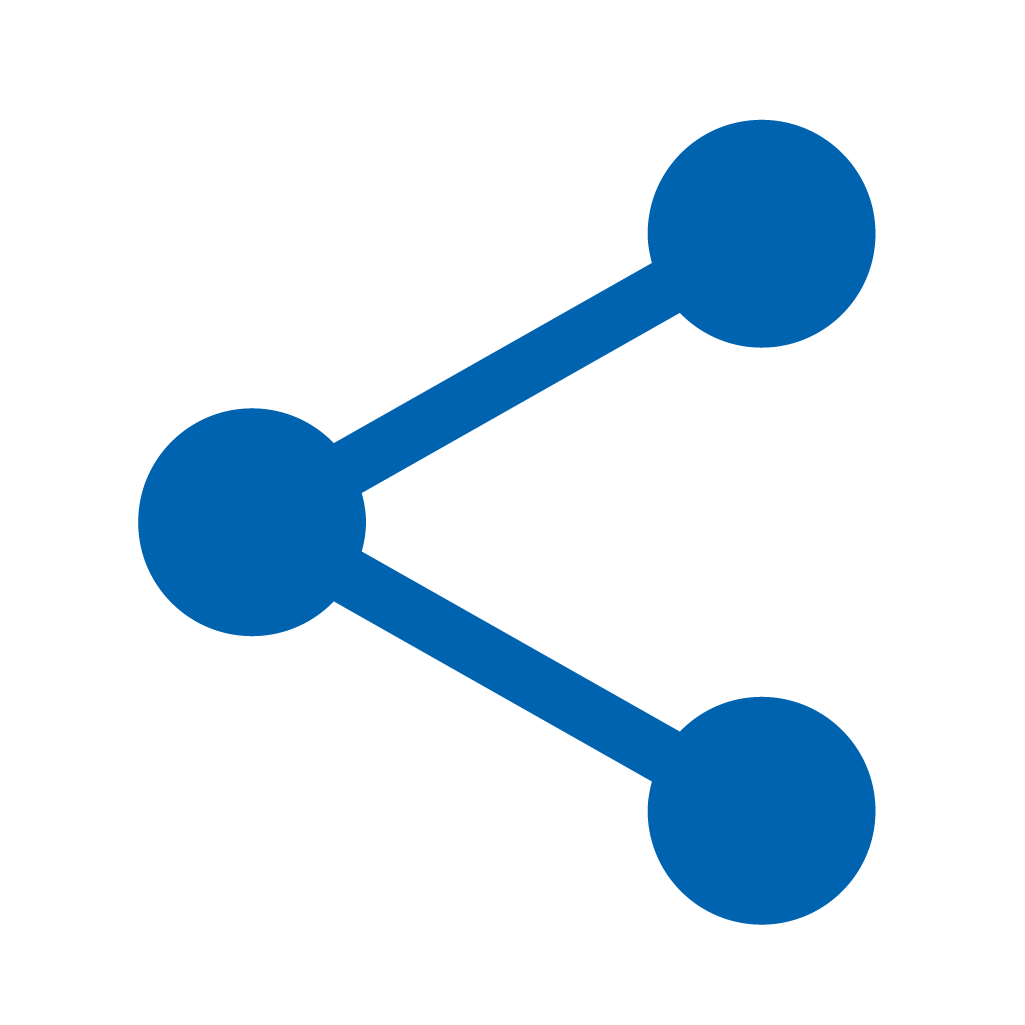 Start Date: 2023-02-18
Speaker:
Dr. Atiphan Pimkhaokham, Dr. Jeanette K L CHUA, Prof. Nikos Mattheos, Dr. Aaron Chu, Dr. Bosco Wong
ITI FORUM 2023 – The Digital Implant Dentistry: From Planning to Execution
Course Highlight: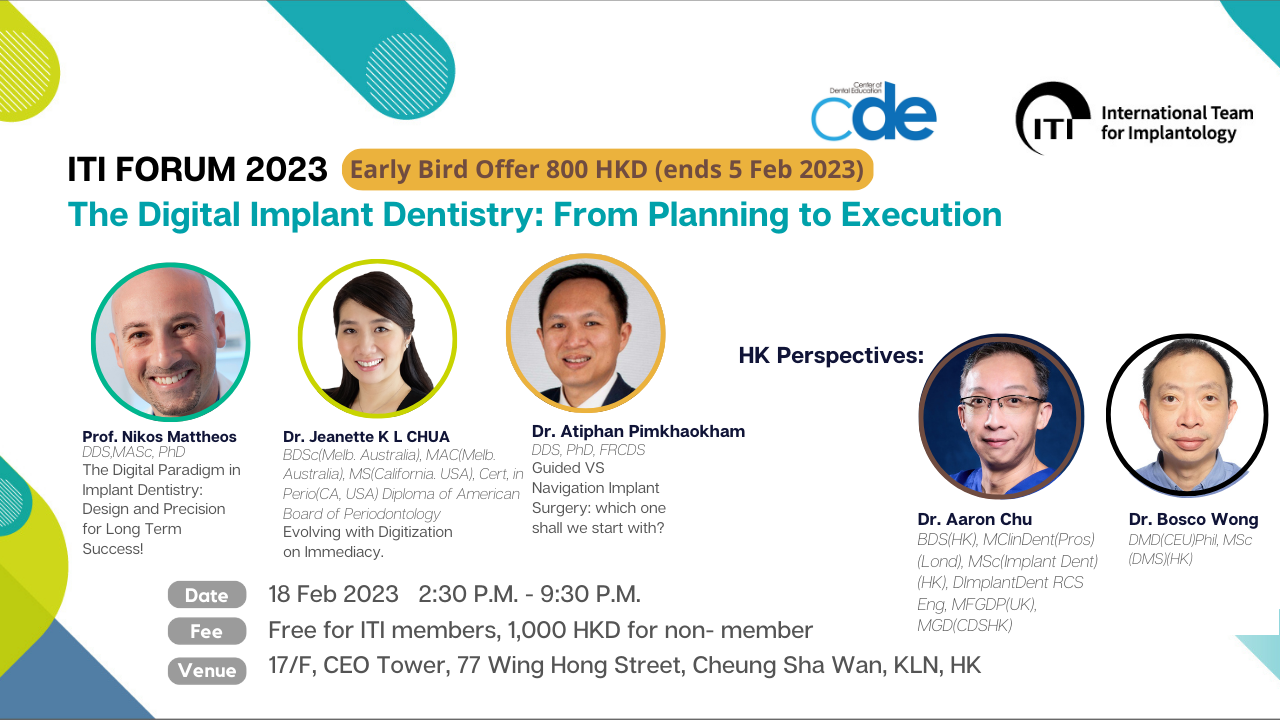 ITI FORUM 2023
The Digital Implant Dentistry: From Planning to Execution
The Digital Transformation of implant dentistry is here to disrupt not only the way we practice but the very perception of implant therapy! From diagnostics to treatment planning, guided surgery, and Computer Assisted Manufacturing of components, Implantology today offers unprecedented possibilities to the clinician, but at the same time places a major responsibility on the design. The new Implant dentist will not only be a competent clinician, but also a good bioengineer and designer, a scientist who is aware of the impact every choice and every component have on the long-term biological outcomes. Modern Technology can help us reach unprecedented success with dental implants, but only when supported by sound biological principles and evidence.
Join the ITI Hong Kong in this unique day, where selected world-class clinicians and pioneers will present how the digital transformation is changing every aspect of implant therapy. 
Program highlights
Dr. Atiphan Pimkhaokham
Guided VS Navigation Implant Surgery: which one shall we start with?
Abstract

Recently, Computer assists implant surgery (CAIS) became one of the interesting topics for implantology, since it is an emerging technology that helps the dentist to perform surgery with guidance created using advanced digital technology. Two common CAIS systems available in the market are Static guided and Dynamic navigation CAIS systems. Even though the objective of these two systems are the same, there are several points that are different especially the principle and workflow. In this lecture, all of these will be discussed, moreover, the outcome of using these systems will also be present.
Learning objective:
1. Understand the differences between guided and navigation implant surgery
2. Learning how to perform the guided or navigation system
3. Learning the advantages and disadvantages of these two systems.
Dr. Jeanette K L CHUA
Evolving with Digitization on Immediacy.
Abstract

The dental implant penetration rate into the dental industry is increasing at an exponential rate over the last 20 years since its inception nearly 60 years ago.  However, the technology of implants, techniques, and how we deliver care have been evolving and are now at an extremely exciting era.
With the advancement of technology, this lecture will discuss how it has changed the practice of immediacy.  Has it really improved our way of practice, is it time to jump in and invest in technology?  What are the main benefits and how do we find the balance; the difference of the traditional and digital way of practice will be illustrated.  How we practice in private practices where it is the most efficient way to keep up with time will be discussed.
Learning Objectives:
1.  Understand the differences between digital workflow and traditional on immediacy
2.  Learn how to incorporate digital dentistry into your practice for implant dentistry
3.  Learn the clinical steps for practicing immediacy with digital workflow
Prof. Nikos Mattheos
The Digital Paradigm in Implant Dentistry: Design and Precision for Long-Term Success!
Abstract

Dental Implants are no longer perceived as metal constructions passively anchored in bone. On the contrary, implants are shown to be biologically active systems, which constantly interact with human tissue and microbes, supporting function and aesthetics in a delicate balance between biology and technology. It is exactly this interrelation between living tissue and precisely constructed biomaterials that determines long-term success or complications. The introduction of the Digital Workflow for the planning and execution of Implant Therapy has empowered unprecedented possibilities to design comprehensively and achieve fast results with implants. At the same time, never was our responsibility greater to know the impact of our design choices on tissue health and long-term clinical outcomes.
In this presentation, we will describe the paradigm shifts in implant dentistry brought by the new digital technologies and we will try to identify the true "game changers". We will dissect the evidence to find out how our design choices can impact tissue health and clinical outcomes in the long term, and we will identify the emerging principles of implant planning which can safeguard success. Furthermore, we will aim to identify design features and conditions that give rise to the most common problems and derive effective strategies for prevention, early identification, and management of complications.
Finally, we will synthesize the complete sequence of the modern digital workflow from planning to execution and we will discuss in detail how Diagnostics, CAD/CAM and Computer Assisted Implant Surgery fall into the right place in a modern workflow, based on our latest research findings.
Learning Objectives:
1. Define Implant Therapy objectives and workflow in the era of digital transformation
2.  Identify how the implant and prosthesis design can influence tissue morphology and clinical outcomes
3.  Master the sound design principles and strategies to prevent complications and ensure long lasting success
Local perspectives:
Dr. Aaron Chu
Dr. Bosco Wong
Enquiry:8481 1770/course@cde.hk

DATE

2023-02-18(Sat)

TIME

GMT +8
2:30 pm - 9:30 pm

LOCATION

17/F, CEO Tower, 77 Wing Hong Street, Cheung Sha Wan, KLN, HK

PRICE

HK$800

For 2022 and 2023 ITI members, please register through ITI website or contact us through iticampushk@cde.hk