Start Date: 2023-02-22
Speaker:
Dr. Chu Kai Yu, Aaron, Dr. Tang Chun Lok, Ernest
How to Incorporate Full-Arch Fixed Prosthesis Supported by Dental Implants in Your Clinic
Course Highlight: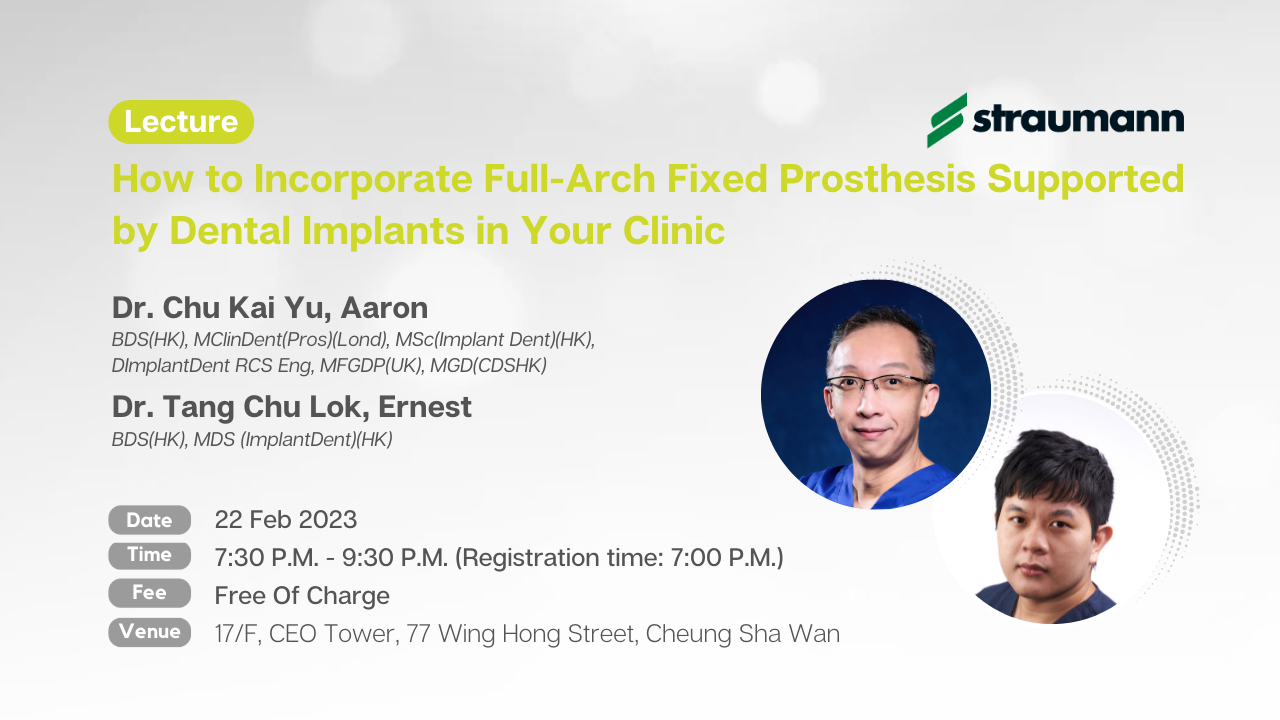 There are times when devastating conditions in an oral cavity present themselves. The treatment duration,
cost, and need of extensive bone augmentation needed in conventional implant-related treatment
for replacement of edentulous or-soon-to-be edentulous patients possess a great challenge for both the patient and the clinician.
The All-on-4® Concept introduced by Dr. Malo in 2003 is a well-known rehabilitation concept for
edentulous jaws that provide immediate usage, to overcome the function and esthetic challenge in
such conditions. Hong Kong was to be a pioneer to be the first to develop a protocol for immediately
loading implants with fixed provisional prosthesis, namely the Hong Kong Bridge Protocol by Dr
James Chow's team in 2001.
Combining the well tested surface technique and advancement in implant marco design and
connection, the Straumann® ProArch treatment concepts may give an edge to such reconstructions
to be done predictably achievable and maintaining long-term success onwards.
In this lecture, we give a walk-through of the procedures and what is needed for the implementation of the such protocol in a general practice setting.
Learning objectives:
1. Indication of Implant Placement Full Arch Fixed Prosthesis
2. Workflow of surgical and prosthetic procedures in the practice
3. Selected showcases
4. Maintenance and complication management
Speaker Info
Dr. Chu Kai Yu, Aaron
BDS(HK), MClinDent(Pros)(Lond), MSc(Implant Dent)(HK), DImplantDent RCS Eng, MFGDP(UK), MGD(CDSHK)
Bachelor of Dental Surgery, University of Hong Kong at 1995
Diploma of Membership of the Faculty of General Dental Practitioners of the Royal College of Surgeons of England at 2005
Master of Clinical Dentistry in Prosthodontics of the University of London at 2006
Membership in General Dentistry of the College of Dental Surgeons of Hong Kong

at 2017
Master of Science in Implant Dentistry of University of Hong Kong

at 2018
Diploma in Implant Dentistry of the Royal College of Surgeons of England

at 2021
After graduating from the University of Hong Kong in 1995, Dr. Aaron Chu has been working privately as a general dental practitioner until now. He has received vast amount of training over these years by attending numerous courses, structural training, and formal education. Dr. Chu received his first master degree of clinical dentistry in prosthodontics in 2006, and his second master degree, MSc Implant Dentistry, in 2018.

It was his great privilege to work with Dr. Ernest Tang to publish a book called "Notes in Implant Dentistry" in June 2021 in Research Gate, which has research interest score of 59.0 and nearly 16,000 reads. His main interests in implant dentistry are Immediate loading, anterior implant placement and full-arch rehabilitation. He also focuses on bringing research and patient-centered care into the clinical practice with various aspects of dentistry.
Dr. Tang Chun Lok, Ernest
BDS(HK), MDS (ImplantDent)(HK)
Dr. Ernest Tang finished his BDS at the University of Hong Kong in 2016 and served as a Dental Officer in the Implant Division of Prince Philip Dental Hospital, till he completed his postgraduate training in MDS Implant Dentistry in September 2020 in HKU.
Dr. Tang is a current Part-Time Clinical Lecture in Faculty of Dentistry, HKU, and is a co-author of Notes In Implant Dentistry, published in June 2021 which is an online resource of implant related reference with over 14k reads worldwide. He is currently managing his private practice and is interested in periodontal and implant therapy, as well as restorative work and digital integration to practicing dentistry.
Enquiry:8481 1770/course@cde.hk

DATE

2023-02-22(Wed)

TIME

GMT +8
7:30 pm - 9:30 pm

LOCATION

17/F, CEO Tower, 77 Wing Hong Street, Cheung Sha Wan, Kowloon, HONG KONG

PRICE

FREE