Start Date: 2023-02-21
Speaker:
Dr Chang I Chun, Teoh M.Clin.Dent. (Prosthodontics) Lond. U, M.Sc. (Implantology) Manc. U, LDS (Eng) RCS 
Basic Implant Course with Live Surgery : From Surgery to Prosthetic
Course Highlight: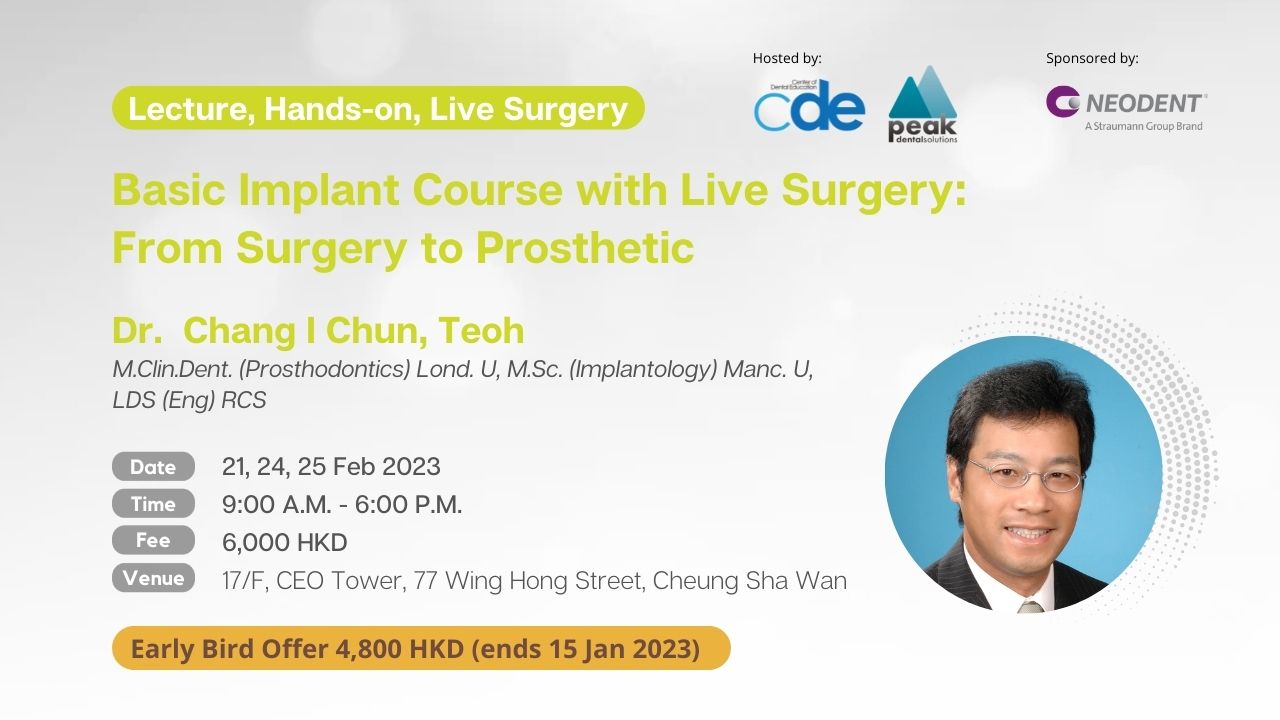 Dental implant treatment has well been established as a predictable treatment option for replacing missing teeth. However, the treatment involves a multi-disciplinary approach that would lead to a successful outcome; from the overall case treatment planning, assessment of the implant site in a restorable position, temporization, and development of peri-implant soft tissue to the delivery of the final restoration plus aftercare maintenance. All these clinical steps may appear to be a daunting task for any beginners on the journey.
The course will be held on 3 days in line with the treatment of the patient including Anatomy, Physiology, Biomaterials, and Sterility. Surgical Techniques (including drilling sequence, insertion of the implant, basic bone augmentation technique etc), Implant Impression Techniques, Provisional Restoration Fabrication, Material selection and Occlusion. Real-case treatment planning will be demonstrated and followed by live surgery. After completing the course, you will be able to understand the complete workflow of single implant placement.
Topics to be included:
Day 1
Introduction of Neodent Implant design & bio-engineering, advantages and indications
Single and multiple implants cases: surgical and prosthetic aspects
- Surgical planning for upper and lower jaw
- Surgical Technique
Workflow for single and multiple cases
Clinical setup for implant treatment
Hands-on:
- Neodent Implant Placement on the working model
- X-ray practice of implant planning and tracing nerve
Day 2 
Live surgery demonstration
Diagnosis and treatment planning
Radiology, anatomy and bone biology
Suturing technique
Day 3
Prosthetic solutions for single and multiple implant cases: abutments and restorative possibilities 
Hands-on:
- Understanding GM connection, Helix GM® hybrid implant and prosthetic abutments
- Impression taking
Complication management
Basic GBR concept
Q&A
Speaker Info
Dr Chang I Chun, Teoh
M.Clin.Dent. (Prosthodontics) Lond. U, M.Sc. (Implantology) Manc. U, LDS (Eng) RCS 


Dr. Chang Teoh completed his dental training in the U.K., and he obtained a Master of Science in Restorative Dentistry related to Dental Implants in Manchester University in 1996 and Master of Clinical Dentistry (Prosthodontics) in the University of London in 2005. He spent over 12 years working in London as Implantologist and focused his practice in Implant Dentistry. His main interest includes oral rehabilitation with dental implants, immediate loading, Implant site development with hard and soft tissue augmentation.
Dr. Chang Teoh is the founder of the Dental Implant Support Club in Hong Kong. The aim of establishing this club is to provide a platform for dentists who are interested in Implant Dentistry to have an open platform for discussion, and exchange of ideas or who are in search of opinions when they are faced with challenging clinical cases.


Enquiry:8481 1770/course@cde.hk

DATE

2023-02-21(Tue)
2023-02-24(Fri)
2023-02-25(Sat)

TIME

GMT +8
9:00 am - 6:00 pm

LOCATION

17/F, CEO Tower, 77 Wing Hong Street, Cheung Sha Wan, Kowloon, HONG KONG

PRICE

HK$4,800