Start Date: 2022-05-26
Speaker:
Professor A. Bakr. M. Rabie
Fundamentals of Extraction Treatment with Rabie Hybrid + TrioClear Aligners and CloudOrtho combo
Course Highlight: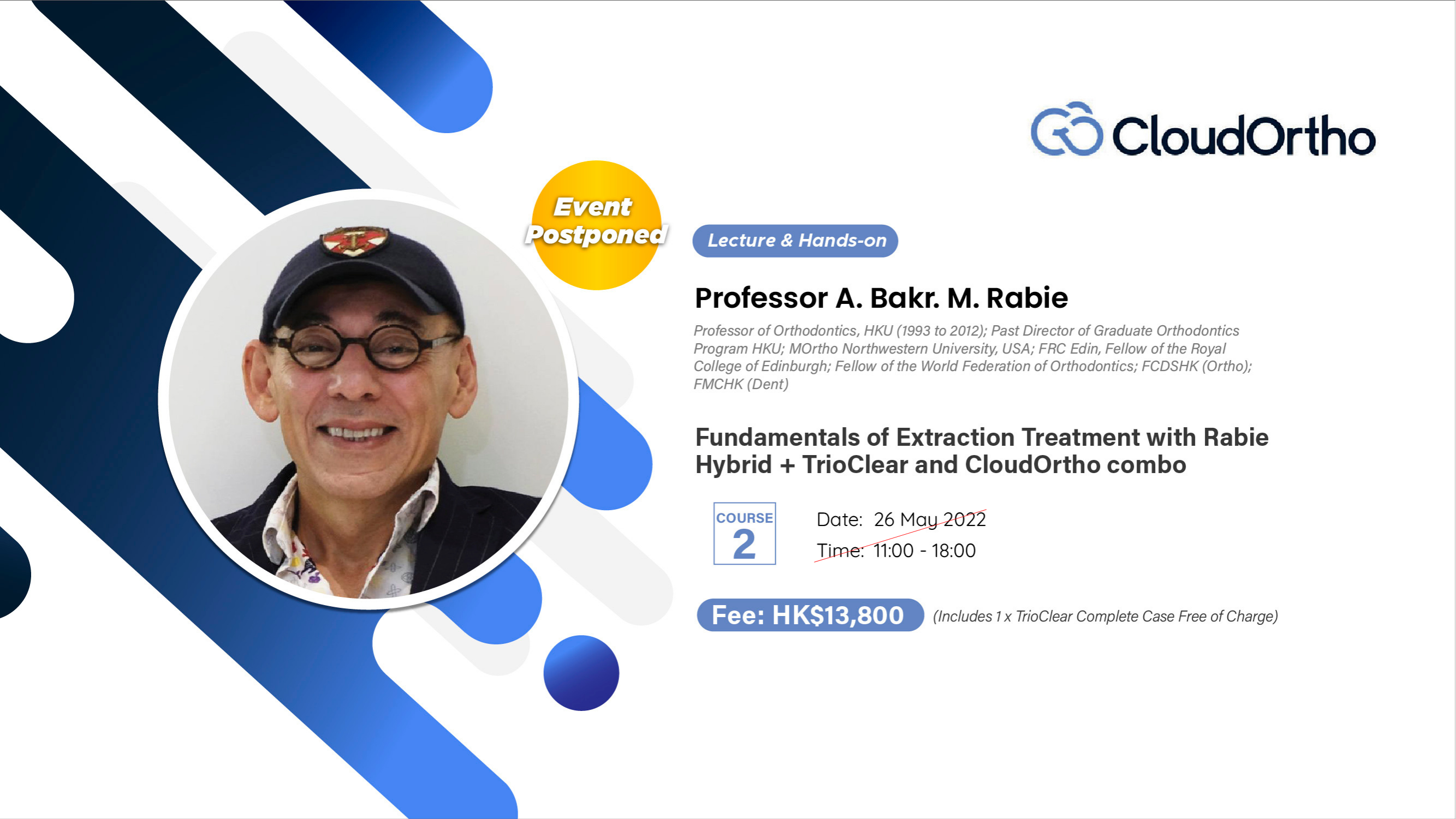 Abstract
This advanced course aims to teach you how to treat all range of extraction cases from class I to class II to class III using a combination of Rabie Hybrid mechanics and TrioClear Aligners.
Professor Rabie will teach you how to diagnose extraction cases to determine the best extraction setup for extraction treatment plans. Learn how to look at the facial profile and analyze lateral cephalometric numbers to determine and justify which teeth should be extracted.
Practically, on a wax typodont, you will learn how to close extraction spaces in 6 months using Rabie Hybrid segmental archwire mechanics for maximum speed and esthetics. After extraction space closure, learn how to finish the case using TrioClear Aligner in approximately 1 to 1.5 years.
With the Rabie Hybrid and TrioClear Aligner combination system, you will be able to treat all extraction cases, regardless of whether they are class I, II or III.
You will also be taught the importance of troubleshooting during orthodontic treatment with CloudOrtho technical support.
Learning Objectives
Diagnosis & Treatment Planning of Extraction Cases
Which teeth to extract?
What is the anchorage demand?
What is Rabie Hybrid treatment mechanics?
How to shorten treatment duration using Rabie Hybrid and TrioClear treatment combo?
Hands-on
Live Practice on a Wax Typodont to learn how to perform Rabie Hybrid mechanics followed by
Full Set of TrioClear Aligners to finish a Real Patient's Case
Treatment Staging with TrioClear Aligner Software after extraction space closure with Rabie Hybrid
DATE

Course 2 : 26 May 2022, 11:00 - 18:00

Note:
Your spot will be held temporarily after your registration through CDE website.
Please send a cheque payable to "Center of Dental Education Ltd" within 7 working days. Our staff will confirm with you once we have received the cheque.

Attn: Center of Dental Education
Address: 17/F, CEO Tower, 77 Wing Hong Street, Cheung Sha Wan, Kowloon, Hong Kong

TIME

GMT +8
11:00 am - 6:00 pm

PRICE

HK$13,800