Start Date: 2022-09-02
Speaker:
Dr. Wan Kong Yuk, Annie. Specialist in Prosthodontics. BDS(HK), MClinDent(Pros) (Lond), MDS (Pros) (HK), AdvDip Prosthodont (HK), M Pros RCSEd, FCDSHK (Pros), FHKAM (Dental Surgery)
Complete Denture from Impossible to Achievable & Essential
Course Highlight: Complete denture, Edentulism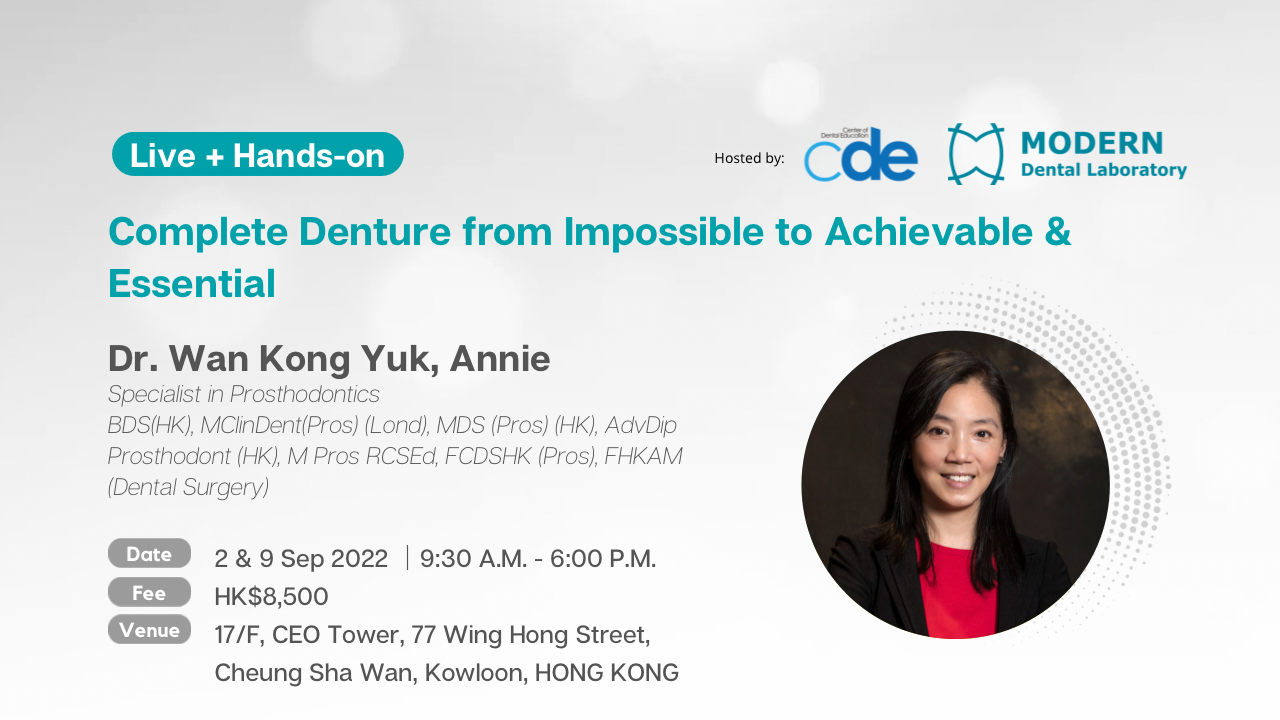 Dental implant has revolutionized dentistry. There are times when implants may not be the most appropriate option for the management of the fully edentulous jaw. 
To achieve successful outcome of removable Prosthodontic rehabilitation, there are 3 key elements: thorough assessment of the patient and the jaw, meticulous execution of the clinical procedures, and effective communication with the technician.
This course is designed with a step-by-step approach in removable complete denture construction:  identification of anatomical landmarks, impression recording with different materials and techniques, jaw relationship registration using Gothic arch tracing, neutral zone concept of teeth setting, design of appropriate occlusal scheme, to techniques in evaluation of the final result will be addressed.
Learning objectives 
Upon completion of the 2 days lecture with hands-on and live demonstrations, the participants would be able to:
Conduct patient assessment and examination of the edentulous ridge with reference to essential anatomical landmarks
Gain 1st hand experience in impression taking, tray selection and jaw relationship record 
Understand the concept of Gothic arch tracing
Appreciate different occlusal schemes in complete denture construction 
Expand the scope of 3D printing in denture duplication
Understand the innovative technique in obtaining optimum retention in lower edentulous ridge
Day 1
AM
Introduction
Lecture on patient assessment and revision of essential anatomical landmarks 
Live patient demonstration on assessment, examination and primary impression taking
Hands on 1: primary impression taking, outline of custom tray 
PM
Lecture on different impression materials
Live patient demonstration on working impression taking 
Hands on 2: working impression taking, handling of different impression materials
Day 2
AM
Lecture on jaw relationship, different occlusal schemes, and Gothic arch tracing
Live patient demonstration on jaw record, assessment of occlusal vertical dimension and selection of teeth 
Hands on – jaw relationship taking
PM
Live patient demonstration on aesthetic try in of dentures
Lecture on copy denture technique and some difficult cases to gain optimum retention 
DATE

2022-09-02
2022-09-09

TIME

GMT +8
9:30 am - 6:00 pm

PRICE

HK$8,500