Sponsor:
Start Date: 2021-05-29
Speaker:
Dr. Nikos Mattheos DDS, Odont, Dr (live – online) Dr. Oscar Wong DDS, MDS (Impl Dent) Dr. Jack Ji DDS, MS (Perio)
Surgical Management of Peri-implantitis: Classic principles – New technologies
Course Highlight: Peri-implantitis, implant therapy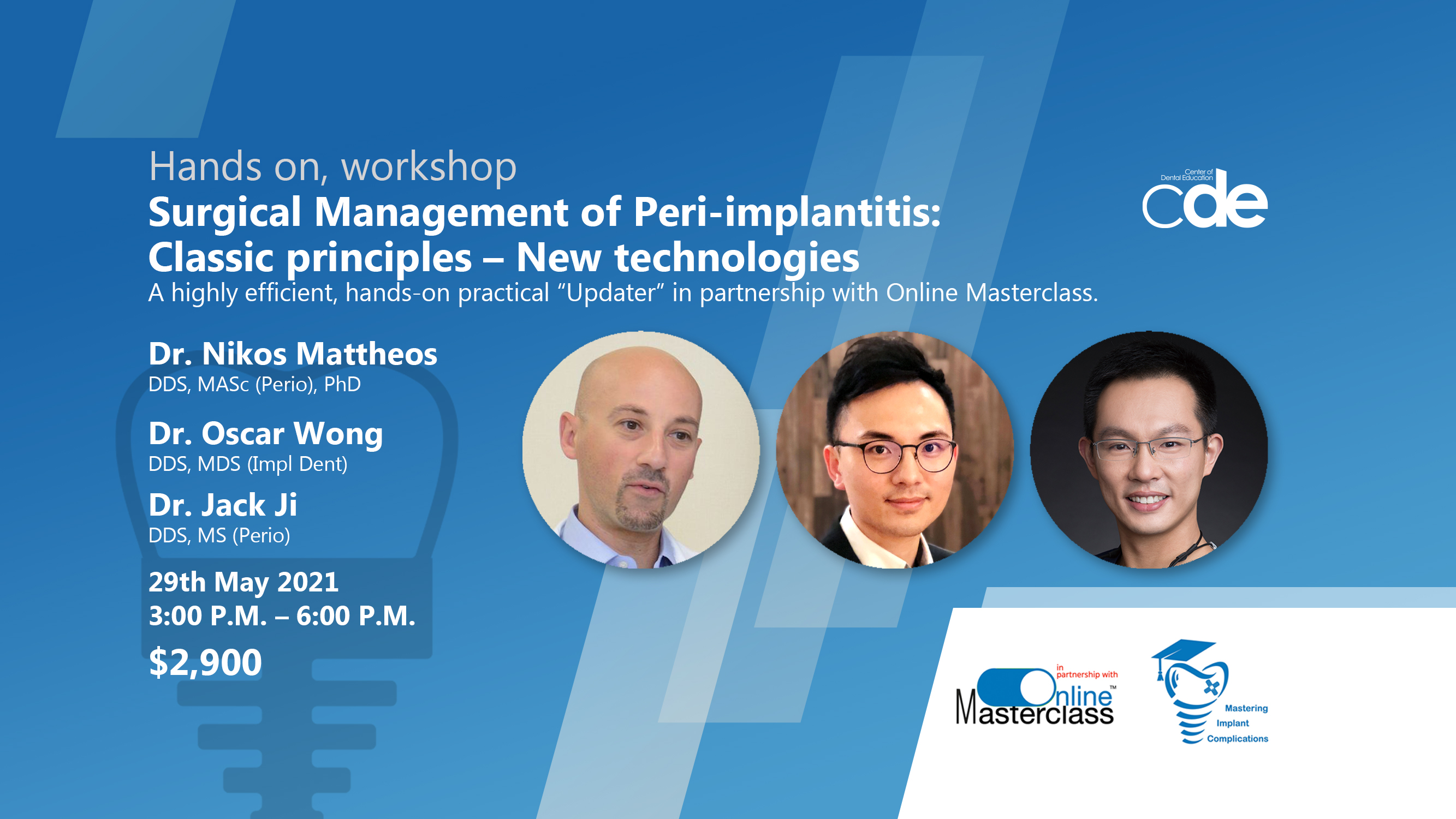 Peri-implantitis is one of the major threats for the long term success of implant therapy. Without a timely and effective treatment it can cause significant tissue damage with consequences often well beyond the loss of the implants. The management of Peri-implantitis involves the design and execution of advanced surgical techniques, often involving soft and hard tissue grafting with autografts and biomaterials. Timely diagnosis, proper assessment of the local anatomy and selection of the most indicated surgical design as well as technology  are critical parametres of an effective treatment, which can restore health and maintain the implant therapy successful in the long term.
This hands-on, highly efficient masterclass is an "updater" on the latest knowledge and evidence for designing and executing effective surgical interventions for peri-implantitis. The course, which is a hands-on supplement to the Online Course "Mastering Implant Complications" is designed to develop clinically relevant skills, for colleagues who want to develop mastery in peri-implantitis treatment surgical procedures.
After a brief "updater"  seminar on the latest evidence and best practice for the surgical treatment of peri-implantitis, the participants will have the chance to directly practice step-by-step surgical management of peri-implantitis on specially designed models under supervision. Theoretical foundation knowledge for Peri-implantitis is covered in the online course MIC. Completion of MIC is not required for attending the hands on, but participants are strongly encouraged to complete module 3 online prior to attending the hands-on class. If you have not attended the MIC, enjoy the one-time opportunity of the package. 
Updater seminar:
- Current evidence on the surgical management of peri-implantitis. Techniques, protocols, devices, success and limitations, healing outcomes.
- Reading the Peri-implantitis lesion: decision making and surgical design
- Decontaminating implants: current technology and decision making
Hands-on:
- Access Flap, incisions design, procedures and suturing
- Mechanical Implant decontamination: Labrida brushes, Implantoplasty
- Regenerating peri-implantitis defects with Guided Bone Regeneration
- Connective Tissue grafts and application in peri-implantitis treatment
- Resective surgery and apically repositioned flaps. 
For more course information. Please visit https://www.masterclassindentistry.com/course/mastering-peri-implantitis-surgery
DATE

2021-05-29

TIME

GMT +8
3:00 pm - 6:00 pm

PRICE

HK$2,900