Start Date: 2021-12-02
Speaker:
Dr. Chow Lop Keung, Raymond Dr. Ji Chao, Jack
Guided Bone Regeneration, from A to Z
Course Highlight: GBR, HARD and SOFT TISSUE MANAGEMENT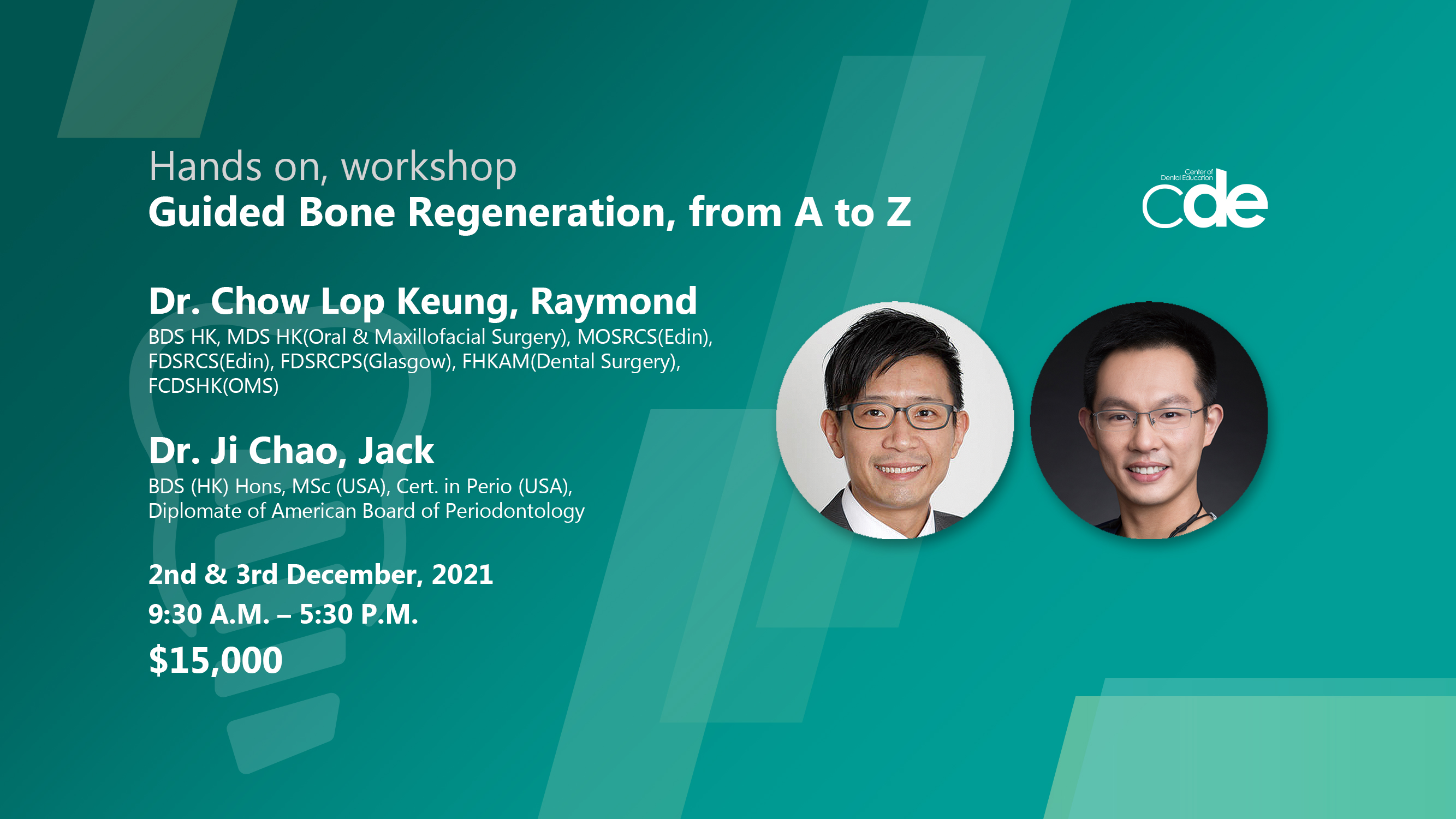 Guided Bone Regeneration (GBR) is the most common surgical approach to augment hard tissue for implant site or pontic site development. It is an unavoidable procedure if you want to provide quality implant therapy to your patients. There are many decision makings behind the scene, eg. When to place implant with simultaneous GBR and when to perform a staged approach? How to achieve a predictable outcome? Does vertical ridge augmentation work? How to choose between short implants and vertical augmentation? How to ensure long-term peri-implant bone stability? How to select appropriate biomaterials? If you have any of the above-mentioned concern in mind, you will find this course helpful to your daily implant practice. 
This two-day interactive and highly practical course aims to provide you with a comprehensive understanding of GBR procedure, from theoretical knowledge to practical experience, from preoperative evaluation to postoperative care, from broad surgical principles to fine details of surgical tips, from hard tissue to soft tissue management, from successful outcomes to undesirable complications, and most importantly from the aspect of the oral maxillofacial surgeon to the aspect of the periodontal surgeon. 
If you choose to do GBR, do it well!
·        Solid knowledge and honest clinical experience
·        Live demonstration of GBR surgery
·        Hands-on practice on pig jaw for both HARD and SOFT TISSUE MANAGEMENT
·        Interactive case studies
·        Clash of ideas from two surgical specialties
DATE

2021-12-02
2021-12-03

TIME

GMT +8
9:30 am - 5:30 pm

PRICE

HK$15,000