Start Date: 2021-02-08
Speaker:
Dr. CHOW Tak Kun BDS(HK),FRACDS,FDSRCS(Eng),FHKAM,FCDSHK(OMS) Current Position : Specialist in Oral & Maxillofacial Surgery (Private practice) Part-time Consultant (Surgery) The University of Hong Kong AND Consultant (Oral & Maxillofacial Surgery) The University of Hong Kong Shenzhen Teaching Hospital, Div. Plastic Reconstructive Surgery, Department of Surgery
Oral Pathology Diagnosis in General Practice– Potential Pitfalls <Two- part Series>
Course Highlight: Temporomandibular Joint Pain, High risk oral & jaw lesions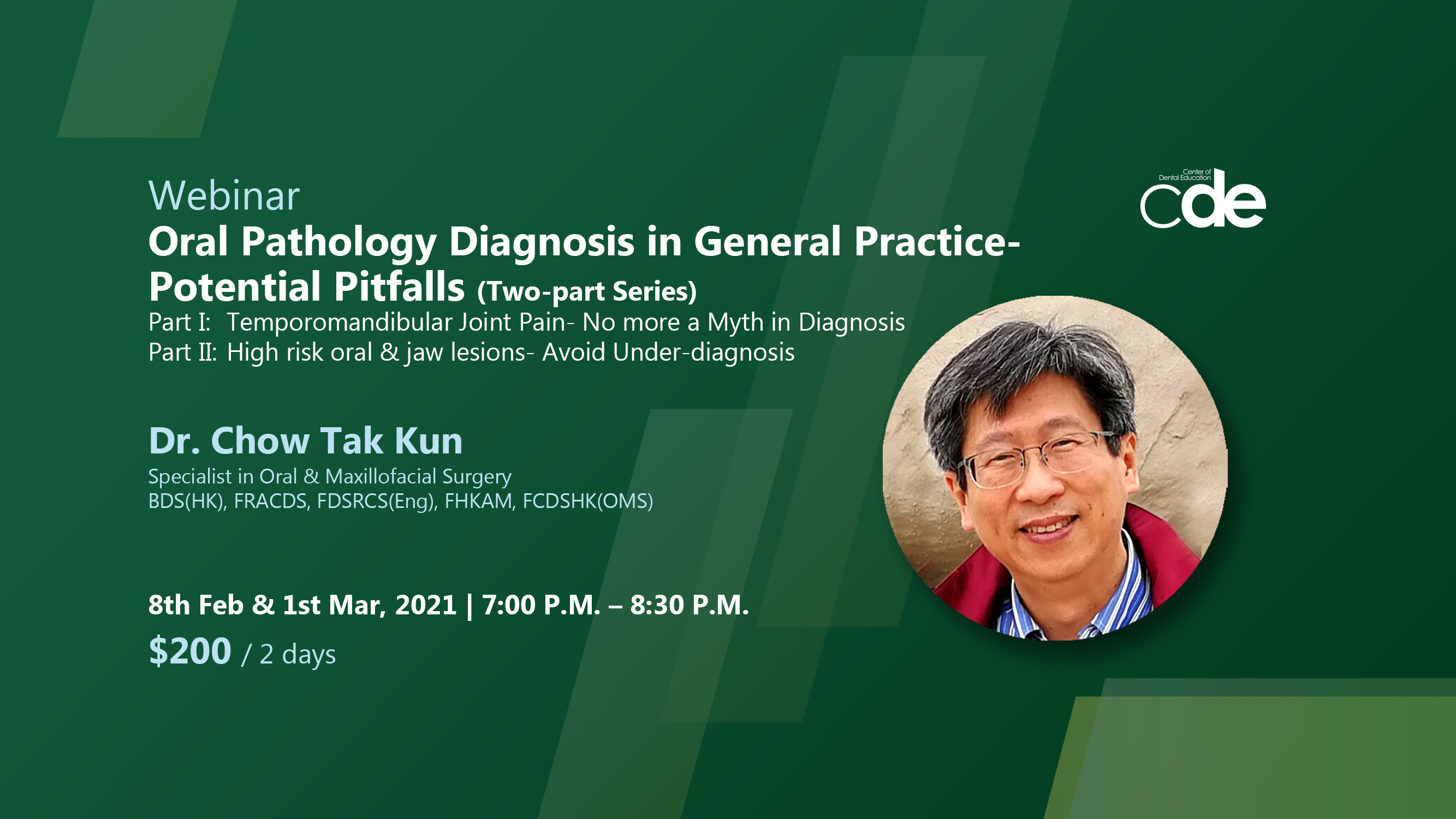 Part I : Temporomandibular Joint Pain – No more a Myth in Diagnosis
Pain in Temporomandibular joint TMJ area is a common complaint from patient seeking for treatment in general practice in addition to secondary referral from other disciplines such as ENT/Orthopedic/Pain specialists. Nevertheless patient's malocclusion, trauma history or any iatrogenic reason range from simple dental treatment to complex restorative & implant treatment that all could be contributory factor in TMJ pain. In the era of office CBCT setup and the easy accessibility of MRI joint imaging should augment the diagnostic competence of general dentist in TMJ pain. The objective of this webinar will provide a standard diagnostic algorithm with the good use of imaging facilities to unveil the Myth of TMJ pain diagnosis and management strategies for general dentist. However, some central lesion mimic TMJ pain such as neuralgic pain or regional malignancy should be fully attended. Lastly, various treatment options at specialist level will be fully discussed to complete the TMJ pain treatment paradigm.
Learning Objectives:
1. Overviewing of TMJ pain pathogenesis & Examination Algorithm;
2. From OPG/CBCT versus MRI to formulate definitive diagnosis;
3. TMJ pain disorder treatment regime in general practice ;
4. Specialist level treatment paradigm
Part II: High risk oral & jaw lesions – Pictorial Diagnostic Illustration
General oral examination and radiographic assessment is the essential routine in general dental practice. High-risk lesions such as white /red patches or persistent ulcers that could be pre-malignant pathologies or even systemic causes could mimic chronic periodontal lesions adjacent to dentition or dental implant sites. Distinctive radiographic lucent or opacity will always catch the eye of an attentive dentist after routine OPG or even CBCT imaging. Furthermore, patient with complex medication history ready for commencement of routine dental surgical treatment could also be categorized as high risk. This webinar will illustrate a standard medical history survey, quick oral facial clinical skill protocol so as a regional assessment of radiographic anomalies for general dentist to formulate a sound diagnostic pathway in order to elucidate high-risk lesions or consider specialist referral promptly. Many case based illustration of the high-risk lesions that will provide a pictorial diagnostic key to elevate the index of suspicion of the participants.
Learning Objectives :
1.   Pictorial Keys for high risk oral mucosal disease- oral lichen planus, leukoplakia, erythroplakia, oral ulcers, and papillomatous lesions other systemic causes
2.     Proliferative gingival mass – periodontitis to malignancy
3.     How to differential dental anormalies or pathologic radiolucency or radio-opacity
4.     Do & Don'ts to decide dental surgical treatment for high risk patient with concurrent medications 
DATE

2021-02-08
2021-03-01

TIME

GMT +8
7:00 pm - 8:30 pm

LOCATION

Zoom Online Platform

PRICE

HK$200