Start Date: 2021-03-17
Speaker:
Dr. Leung Siu Fai, Eric. BDS (HKU), Post-grad Dip DS (HKU), MFGDP (UK), MGD (CDSHK)
Introductory Hands-on Course on Microscope Enhanced Dentistry
Course Highlight: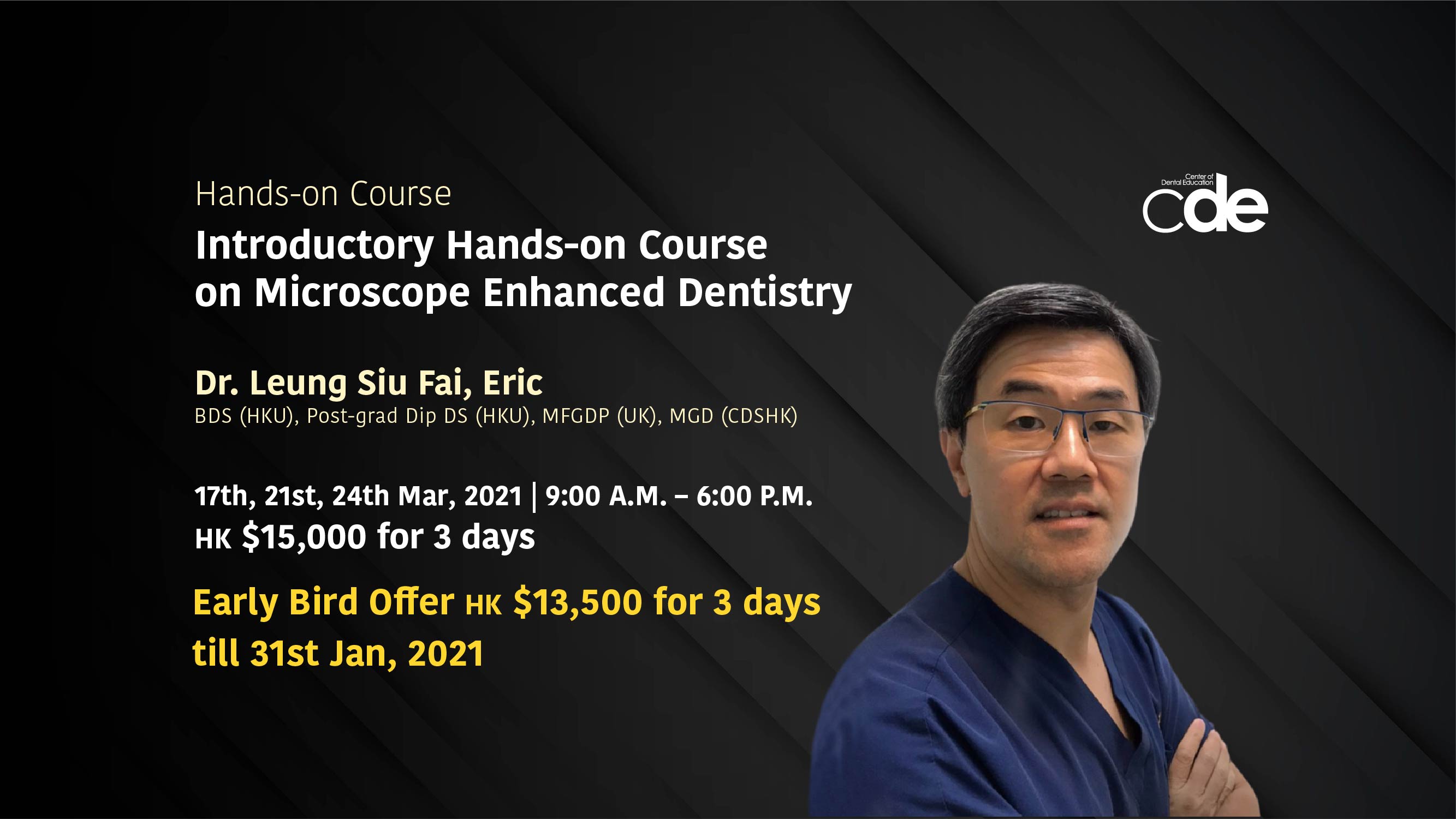 As more and more advantages of the Dental Operating Microscope (DOM) brought to Dentistry are noticed by the profession, there has been a recent increase in popularity of the equipment in General Dental Practice. However, it is often considered there is a steep learning curve to overcome before one can perform Microscope Enhanced Dentistry in all clinical procedures of General Dentistry.  
In this 3-day course, the advantages of the operating microscope in all fields of general dental practice including diagnosis, documentation, patient communications, Periodontal treatment, Root Canal Therapy, direct and indirect restorations, and surgical treatments will be presented with clinical cases. Introduction to various components of the DOM will be done. Participants will have hands on experience on ergonomic positioning of the clinician, techniques for indirect vision and microphotography with the DOM, performing all stages of Root Canal Therapy, various Composite restorations including minimal invasive restorations, tooth preparation and the use of intra-oral scanner for indirect restorations.
Learning Objectives:
1.     To understand various components of the DOM and their functions
2.     To practice proper positioning when using the DOM
3.     Clinical technique in Root Canal Therapy
4.     Clinical technique in direct restorations including minimal invasive restorations
5.     Clinical technique in tooth preparation for indirect restorations
6.     To practice the use of intra oral scanner
Three Days Workshop
Day 1
·        Introduction to the Dental Operating Microscope (DOM)
·        Various components and their functions, AV equipment (External or Internal)
·        Ergonomic position and positioning for indirect vision
·        Non-surgical Root Canal Therapy Part I
Hands-on:
·        Practice on personal adjustment of the DOM
·        Exercise to get used to the system
·        Non-surgical Root Canal Therapy ( Access, shaping and cleaning with rotary instruments ) Part I
Day 2
·        Non-surgical Root Canal Therapy Part II
·        Direct restorations
Hands-on:
·        Non-surgical Root Canal Therapy ( Obturation ) Part II
·        Direction restorations (Anterior, Posterior, Minimal invasive Composite restoration, and use of different materials and instruments)
Day 3
·        Indirect restorations
·        Case Presentations
Hands-on:
·        Indirect restorations ( tooth preparations for anterior, posterior crowns, veneers)
·        Digital impression with intra oral scanner
DATE

Day 1 - 17 Mar 2021
Day 2 - 21 Mar 2021
Day 3 - 24 Mar 2021

TIME

GMT +8
9:00 am - 6:00 pm

LOCATION

17/F, CEO Tower, 77 Wing Hong Street, Cheung Sha Wan, Kowloon, HONG KONG

PRICE

HK$13,500